JULY 28, 2010
Helping desert tortoises the right way during monsoon season
PHOENIX – Monsoon season brings one of the southwest desert's most iconic creatures out of their burrows and out-and-about across the state. Desert tortoises are now in their most active season, and Arizona's increased human population creates more risks for these slow-moving symbols of the Sonoran desert.

The Arizona Game and Fish Department asks the public to follow these important guidelines if they encounter a desert tortoise:

Do not remove a tortoise from its habitat. Taking a wild tortoise home is illegal in Arizona. Additionally, most tortoises stay in the same small area their entire lives, so if you move a tortoise to a new location it will not know where to find food and shelter and will likely die.

Do not release a captive tortoise into the wild. Captive desert tortoises cannot be released into the wild as they can pass diseases to wild populations and displace wild tortoises. It is also illegal to release captive animals into the wild.

Keep dogs away from both captive and wild desert tortoises. Even the most gentle dog can pose a serious threat to a tortoise.

If you come across a desert tortoise crossing a busy road, if traffic safely permits it, pick the tortoise up and gently move it to the other side of the road. Carry the animal so that it is level to the ground, and move it in the same direction it was headed.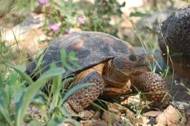 "People think they are doing the tortoise a favor by taking it home, but it is actually harmful to the tortoise and the tortoise population," says Cristina Jones, Game and Fish's turtles project coordinator. "Tortoises should not be handled for any length of time or brought home or into captivity. The best thing anyone can do is to leave tortoises in the wild."

Tortoise conservation partners include Saguaro National Park, Friends of Saguaro National Park, Arizona Game and Fish Department, Arizona-Sonora Desert Museum and Phoenix Herpetological Society.

"Properly caring for a legally-adopted tortoise takes a lot of knowledge and we cannot stress enough how detrimental it is for both the captive and wild tortoises to let a captive tortoise go free in the wild," said Jones.

Anyone interested in legally sharing their yard with a desert tortoise may adopt a tortoise if they are from Bullhead City, Kingman, Lake Havasu, Phoenix, Tucson and Yuma. For more information on the Arizona Game and Fish Department's Tortoise Adoption Program and enclosure requirements, visit www.azgfd.gov/tortoise.

There are two populations of desert tortoise: the federally-listed Mojave desert tortoise found north and west of the Colorado River and the Sonoran desert tortoise, which is protected by Game and Fish.

Desert tortoises in Arizona are considered a species of greatest conservation need; those north and west of the Colorado River are among the threatened Mojave population.

Through its partnerships with other public agencies, non-profit organizations and the science community, Game and Fish's wildlife recovery program aims to keep common species common and prevent species from becoming listed as threatened or endangered allowing for conservation in a more cost-effective manner. State-level involvement provides closer oversight of wildlife species on a day-to-day basis. Specific emphasis is placed on identifying and managing the wildlife and habitat of greatest conservation need, or those species that are no longer abundant and facing increasing threats from habitat degradation, disease, introduction of non-native species and climate change.

Adaptive management of these species helps ensure their continued presence in Arizona and protects the delicate balance of the ecosystem for future generations.

Tortoise conservation in Arizona is supported by the Heritage Fund, a voter-passed initiative that was started in 1990 to further wildlife conservation efforts in the state through Arizona Lottery ticket sales.