JULY 28, 2010
Desert Foothills Land Trust awarded grant from Nina Mason Pulliam Charitable Trust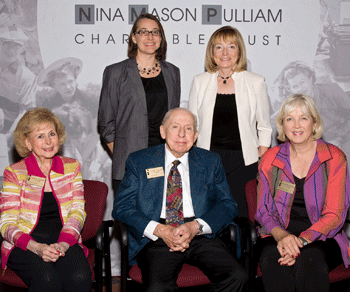 CAVE CREEK/CAREFREE – Desert Foothills Land Trust is pleased to announce that they have received a $22,000 grant from the Nina Mason Pulliam Charitable Trust to allow them to enhance their volunteer and land stewardship programs. The grant was made as part of the Charitable Trust's total award of $1.75 million to 28 organizations in Arizona on July 14.

"This grant offers an opportunity for the Land Trust to better engage our community in direct land conservation work, at the same time we increase our capacity for land stewardship and other programs. The Nina Mason Pulliam Charitable Trust's support of our work will allow us to capitalize on this opportunity, and we are tremendously grateful for their investment with us," said Land Trust executive director Sonia Perillo (pictured above, standing far left).

Desert Foothills Land Trust will work to recruit and train volunteers in the North Valley communities it serves, including Carefree, Cave Creek, North Phoenix, North Scottsdale and Anthem. Many of these volunteers will help the Land Trust with land stewardship and management on its 600-acre system of nature preserves.

"As is true for many nonprofits around the country, the Land Trust will rely heavily on volunteers in order to accomplish our important mission. Increasing our capacity to utilize this pool of knowledge and enthusiasm is critical in moving our organization and conservation programs forward, despite a difficult economic environment," adds Perillo.

"The grants we are distributing today represent the Trust's goal of responding to alleviate immediate human needs, collaborating to leverage organizational impact and investing over the longer horizon to change lives, preserve environments and enrich community life in the Valley," said Harriet M. Ivey, Nina Mason Pulliam Charitable Trust president and CEO at a July 14 reception for grant recipients.

Those interested in volunteering can contact the Land Trust to sign up for their training program at 480-488-6131 or visit their website at www.dflt.org for more information.
Desert Foothills Land Trust works with communities and partners to protect, preserve and steward sensitive land and species for the survival of the fragile Sonoran Desert. The Land Trust has permanently protected more than 600 acres in the North Valley, including Carefree, Cave Creek, North Phoenix and Far North Scottsdale. Many of these preserves are open to the public for exploration and passive recreation.

The Nina Mason Pulliam Charitable Trust seeks to help people in need, especially women, children and families; to protect animals and nature; and to enrich community life in the metropolitan areas of Indianapolis and Phoenix. Since the Trust began its grantmaking in 1998, it has awarded more than $87.3 million to 390 Arizona nonprofit organizations.