BY KATHLEEN RUBI | JULY 28, 2010
Help Best Buddies Arizona win a $200,000 Pepsi Refresh Grant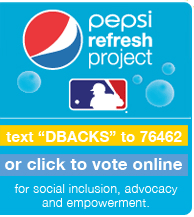 PHOENIX – Best Buddies Arizona has the chance to win $200,000 with your help.

Starting today through Tuesday, Aug. 17, Justin Upton and the D-backs are competing to fund the "Batter up for Buddies" project which matches Arizona's youth with developmental disabilities into one-to-one friendships with student volunteers through the Best Buddies Arizona Program.

To win, Best Buddies needs as many votes as possible (the project that receives the most votes will receive the grant). To support Best Buddies in this endeavor ask your work or organization to cast their votes at www.mlb.com/PepsiRefresh or via text by typing "DBACKS" to 76462 everyday for the next 34 days.

The Arizona Diamondbacks are up against 14 Major League Baseball (MLB) teams, all of whom are asking fans to join them in making a difference in America's communities. As part of the Pepsi Refresh Project, each Club has outlined an idea they are passionate about and will vie for fan votes and an ultimate $200,000 Pepsi Refresh grant to fulfill the project.
For Best Buddies Arizona, the Pepsi Refresh Grant would provide opportunities for more than 2,000 students on 44 middle and high school campuses to build self esteem, social and leadership skills through one-to-one interactions, impacting the lives of 20,000 people in Arizona.

"Children with developmental disabilities belong to one of the most undervalued populations in the world; they often experience a life of rejection and isolation" said Best Buddies Arizona State Director, Kathleen Rubi. "The Pepsi Refresh Project grant makes it easy for fans to vote. For the students served by this project, Best Buddies means the chance to have a friend."

Refresh lives: VOTE NOW for social inclusion, advocacy and empowerment. VOTE NOW and help Best Buddies Arizona win $200,000! For more information on Best Buddies Arizona visit: www.bestbuddiesarizona.org. Follow us on www.facebook.com/bestbuddies.az for updates on Pepsi Refresh campaigns.
Best Buddies Arizona is the local affiliate of Best Buddies International, a non-profit 501 (c)(3) organization dedicated to establishing a global volunteer movement that creates opportunities for one-to-one friendships and leadership development for people with intellectual and developmental disabilities. Best Buddies Arizona impacts the lives of 20,000 people annually through its friendships programs on 46 campuses in Maricopa County. Founded in 1989 by Anthony Kennedy Shriver, Best Buddies is a vibrant organization that has grown from one original chapter to more than 1,400 middle school, high school, and college campuses worldwide Best Buddies Arizona currently serves over 3,000 participants.