BY PETE MOHR | JULY 28, 2010
Meet the Football Falcon seniors … Parker LaRue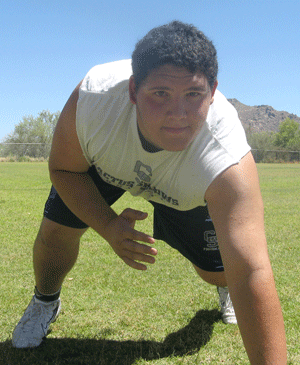 I try, conscientiously, not to write my Football Falcon senior profiles as "puff pieces." I want readers to know who these young athletes really are – and what makes them tick. Some readers may consider this senior profile on Parker LaRue "politically incorrect." I respect their right to think so; but I cannot knowingly omit from this feature, the compelling Christian witness he shared with me. The spiritual side of Parker LaRue deserves recognition.

Parker, oldest of Scottsdalians Ron and Nina LaRue's four children (Jordan, 16, a rising junior at CSHS; Hunter, 14, a rising 8th grader at STMS; and Kylie, the 4 year old "caboose"), turns 18 on Oct. 26, 2010. Born in Scottsdale, he entered CCUSD as a DAMS 6th grader, but never played organized football until he became a Freshman Falcon. As a sophomore, he improved under JV Coach Matt Mason, saw limited Varsity action but did not letter.

He was somewhat pulled away from football by his missionary activities at Highlands Church; but senior Paul Walsh and classmate John Leonard encouraged him that he could do the Lord's work and play football. His spirituality began as a 6th grader, when his family moved from Tempe to north Scottsdale. "The move was difficult for me," Parker recalls, "so I learned to trust in God to help me start a new life … to make new friends."

By late-August 2009, he was on the sidelines for the Coronado pre-season scrimmage; played in the Falcons' confidence-building first four wins; and was a starter at DT against Sinagua. Defensive Coordinator Matt Bradshaw: "Parker's one of those kids who just gets better and better, mainly because he's smart, very coachable – and works his tail off!" He earned 2nd Team All-Region defense recognition.

At 5'10" and 260 pounds (his preferred playing weight), Parker was named as a "Player To Watch" last May by MaxPreps, perhaps the leading statistical evaluator of high school football talent. That recognition rated him an invitation to a MaxPreps Showcase in early June. He declined. Why? Because attending the MaxPreps event would have caused him to miss half of Highland Church's Youth Camp to which he had previously committed. As a Christian, Parker gives his witness by action – not words.

Now he's a little more than a month away from the Sept. 3 home opener against (Vail) Cienega. What does his senior season mean to Parker? "An opportunity to excel … to lead … to keep working hard … to take what I've learned and make the best of it – for the team and myself." He talks with pride – and determination – about "Yaz (Alex Yazdi), Joey (Hughes) and me working after practice with Coach Bradshaw and Coach Mason. Technique and attitude: that's how you get better."

And his senior teammates? "Pete, you know who our core group is. With some senior bonding time, I'm confident that we'll all come together – just like last year's seniors did. Coming together as a family, we should have an undefeated regular season and a good shot at winning State. It'll be tough, but we can do it. We've just got to stay together and keep focused on doing our jobs individually."

His personal football goals? "Making 1st Team All-Region on defense and, hopefully, making 2nd Team All-Region offense. I expect to play both ways this season – at my usual DT and probably at offensive left guard."

Carrying a 3.3 GPA, Parker concedes, "I can be a better student, if I try to be." History is his favorite subject, crediting his sophomore teacher, Steve Mitten, with making History "more exciting, more applicable."

Will he play at the next level? "I want to … that's a desire of mine; but it'll be okay if that doesn't work out. I'll go either to Southwestern College or Grand Canyon University, studying to become a worship leader." At his Highlands Church, Parker plays guitar in the High School Worship Band.

Congratulations, Parker. With God in your heart, you're certain to have a great senior season.