BY PETE MOHR | JULY 28, 2010
Late-June 1951: 'Now batting for the Yang-kees … Joe … Di-Mag-gi-o'
Bob Sheppard, Oct. 20, 1910 - July 11, 2010: "The Voice of God" is silenced – but never to be forgotten by sports fans who heard him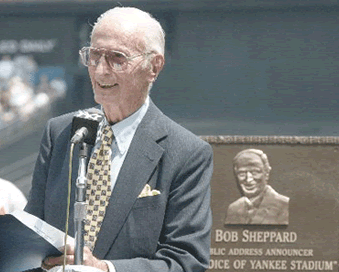 AN ANNIVERSARY DEDICATION: On May 7, 2000, Bob Sheppard graciously accepted presentation of a plaque honoring his 50 years as "The Voice of Yankee Stadium."


Reggie Jackson named him, with deepest respect, "The Voice of God." Red Sox Hall of Famer Carl Yastrzemski humbly observed, "You're not in the Big Leagues until Bob Sheppard announces your name." Sheppard said Mickey Mantle once told him, "Everytime Bob Sheppard introduced me at Yankee Stadium, I got shivers up my spine." And Sheppard responded to "The Mick," "So did I."

From Selena Roberts' "A Loss for Words" (Sports Illustrated, July 26, 2010, Page 70): "Nostalgia isn't playing taps just yet. At Yankee Stadium, the Voice of God still carries. For as long as Jeter [the Yankee captain and shortstop] is a Yankee, he will insist that a tape of Sheppard announcing his name be played when he is introduced at the Stadium. In that moment, he is not 'Jeets' or 'DJ.' He is 'DEH-rek JEE-tuh.' What's in a name? The same beauty still found in a game: poetry." I'll not try to match the simplicity of her sportswriting eloquence – only to admire it, as I did Sheppard's announcing.

Before explaining the announcement by Bob Sheppard that headlines this article, the following summary of his career from Wikipedia, helpfully retrieved for me by my "right arm" colleague, Rachel Karl-Gomes. "Sheppard announced more than 4,500 Yankees baseball games over a period of 56 years, including 22 pennant-winning seasons and 13 World Series championships: he called 121 consecutive postseason contests, 62 games in 22 World Series, and six no-hitters, including three perfect games." [In those "perfect games" would be numbered Don Larsen's masterpiece over the Dodgers in the sixth game of the 1956 World Series, which I missed attending because a college classmate couldn't find me on campus and resorted to selling his extra ticket to a complete stranger outside Yankee Stadium!]

Late-night sports talk radio, Fridays and Saturdays, I often drift to sleep to the voice of Bob Valvano, host of "The V-Show" on ESPN Radio, KTAR, 620 AM. He is the younger brother of (the late) Jim Valvano, highlight-archived for his up-and-down the court unrestrained exuberance after his North Carolina State Wolfpack had upset Houston's Phi Slamma Jamma to win the 1974 NCAA Basketball National Championship.

On the Friday night following Sheppard's death, Valvano, who grew up on Long Island, recalled that when the Yankees were on the road, his father played softball with Bob Sheppard. He then described a young boy's excitement when hearing Sheppard announcing the starting lineups as he and his father approached Yankee Stadium.

"Bobby V.'s" remembrances flashed me back to a Friday afternoon in late-June 1951, my first visit to Yankee Stadium, in the company of my father, Sid Mohr, and a boyhood close friend, Bill Marks. I was 14. The Yankees and "The House That Ruth Built" were light years away from the Class A South Atlantic League's Montgomery (Alabama) Rebels!

We were seated, courtesy of my Dad's Morgan Guaranty Trust Company hosts, in a lower level box, right field line, which offered a view directly into the Yankee dugout. The reported absence of Joe DiMaggio, who was attending his mother's funeral in San Francisco, while disappointing, did not curtail our collective excitement.

The Yankees were closely trailing the Cleveland Indians by a score I've long since forgotten, when in the bottom of the 6th came this resonating intonation by the public address announcer: "Now batting for the Yang-kees … Number 5 … Joe Di-Mag-gi-o." And from the dugout, "Joe D.," unexpectedly emerged, practice-swinging two bats. The crowd stood and gave him affectionate "welcome back" applause. He took one, maybe two, pitches before lining a double to right-center that keyed the Yankees' winning rally.

June 1951 was Bob Sheppard's third month at the mike, DiMaggio's last season as a player and Mickey Mantle's first. I would not learn Bob Sheppard's name until some months after his Sept. 5, 2007 final appearance, when he, approaching 97, was reported to be in failing health. From Opening Day, April 17 1951, to his last game, Bob Sheppard's voice had spanned over 56 years of New York Yankees baseball. Remarkable!

My second Bob Sheppard recall, from Friday night, Oct. 13, 1978, has, for me, always been more compelling, perhaps because that Game 3 of the 75th World Series, Yankees at home, down 0-2 to the L.A. Dodgers, was the only World Series game I've ever attended.

I'd been in New York City that day with my client, Genuine Parts Company (majority owner of NAPA). My only son, Jonathan, then 15, arrived on a late-afternoon flight from Atlanta. We were hosted by one of his godfathers (and my Princeton classmate), Neil Chrisman, a vice president at The Morgan Bank. Our upper deck seats looked almost straight down on third base, where Graig Nettles would turn in what many baseball experts consider to be the most outstanding single-game performance in World Series history by a third baseman. [After the Yankees' 5-1 win, Dodger Manager Tommy Lasorda grumbled, "That guy (Nettles) saved 'em six runs!"]

In batting practice, "Reg-gie! Reg-gie!" as "Mr. October" launched eight straight, most of them into the upper deck. The starting lineups were announced and then the 56,447 in attendance quieted down into an expectant pregame buzz.

"Ladies and gentlemen …" came this dramatic introduction, reverberating through the caverns of Yankee Stadium as only Bob Sheppard could have signatured, "Let's have a big New York welcome … for the Yang-kee Clip-puh … Joe … Di … Mag … gi … o!" And from the owner's box to the right of home plate stepped the dapper-as-always DiMaggio to throw out the first pitch. My half-nuts reaction embarrassed Jonathan, who challenged, "Dad, what's the big deal?!" Undaunted, I enthused, "Son, don't you understand? That's "Joe D.!" Since that night, I haven't visited Yankee Stadium – old or new.

Nearing the end of the 2009 baseball season, I descended from the Falcon Field press box (torn down one year later by the EduCrats) with my friend and booth partner, scoreboard operator Jay Sabanosh. Baseball parent (and former New Yorker) Greg Clifton, whose son Greg, a relief pitcher, would be honored as "Most Outstanding Team Player," greeted me, "Well, here comes the Bob Sheppard of the Falcons!" Acknowledging what I accepted as his intended compliment, I replied, "Thanks, Greg. I always try to give my best Bob Sheppard imitation."

We shall never hear another like him.