BY LINDA BENTLEY | JULY 21, 2010
Too much government involvement to be able to help themselves
'On an individual basis we are unable to protect our property'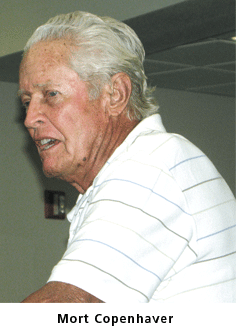 CAVE CREEK – Since the January storm event that ate away approximately 80 feet of Cave Creek Wash frontage from Mort and Janice Copenhaver's property and nearly sailed their home down the wash, neighboring property owners found themselves lucky this time but just as threatened if nothing was done to remedy the situation.

During Monday's meeting, council voted unanimously, approving a series of resolutions to help facilitate just that

Town Engineer Wayne Anderson presented a brief overview of the situation affecting certain properties along Cave Creek Wash and said the proposed remediation is intended to protect the east side of Cave Creek Wash from flood water.

He said, since the 2005 Cave Creek Complex Fire, a tremendous amount of material has come downstream and the significant storm event in January eroded the banks of Cave Creek Wash threatening eight homes.

According to Anderson, much higher flows were recorded in 1993, but they didn't do any damage.

Citizens contacted Maricopa County Flood Control District (MCFCD), which has a capital improvement fund, but said MCFCD was disinterested in their problem.

At their request, town staff intervened and finally got MCFCD to come out and look at the situation.

However, MCFCD suggested they contact the Department of Agriculture Natural Resources Conservation Services Department, which has an Emergency Watershed Protection Program.

Anderson said, since all eight properties lost land to erosion, they qualified for a 75 percent grant through the program and would only have to pay the remaining 25 percent, which they would pay to the town through an assessment district.

Looking ahead to a subsequent agenda item, Councilman Steve LaMar asked, "How does this fall into taking out a $470,000 loan to pay for this?

Councilman Adam Trenk asked, "We're going to seek to gain easements across all these properties?"

Anderson said the easements were required for gaining access to complete the project.
Councilman Ralph Mozilo asked if obtaining those easements would cost the town, since eminent domain was stated as a means to obtaining easements if necessary.

Anderson stated they had commitments from most of the property owners, more specifically, all but one.

If eminent domain was required, the cost would become part of the assessment.

He said the reason for the town's involvement and obtaining the loan is because the federal government only allows 220 days to complete the project.

Mozilo said, "I feel as though we're having a gun put to our head."

Looking at the preliminary engineering plan, Vice Mayor Ernie Bunch noted several of the gabions were being placed upstream and asked if that was to redirect the flow.

Anderson said that was exactly the intent – redirecting away from channels to keep the banks from eroding. He explained this was only a preliminary plan but the idea was to keep the velocity down.

Councilman Jim Bruce asked, "Let's say this gets done, who maintains this and what is the cost?"

Anderson said the town would be responsible for inspecting and maintaining but if there was future damage, the town would have to revisit the issue.

Mayor Vincent Francia questioned if increased flow would threaten the new wastewater treatment plant.

Anderson seemed confident it would not.

Attorney Fred Rosenfeld explained the was a step by step process and said Cave Creek has not done special assessments for over 10 years.

He said, "Very few things touch people as much as special assessments," which he said become priority liens second to taxes.

Rosenfeld said the town must post, publish and mail notices of improvements and a resolution of intention, after which there is a 15-day period of protest.

He said if a majority files a protest, which must be in writing, the job stops. If not, the town can order the work, although Rosenfeld cautioned it is also a political decision, even if just one person files a protest and said, "You need to take that into consideration."

Rosenfeld said a majority consists of either five of the eight parcels or the majority of feet of wash frontage and reiterated, "We do have to get the easements."

If contractors are unable to meet the timeline of the grant, he said the work would also have to stop.

Preliminarily, Rosenfeld stated the assessment is being divided equally against each of the property owners. However, once the work is complete, property owners have a right to protest their share of the assessment, in which case, council would have to decide upon a means to fairly divide the assessment.

Rosenfeld explained all the step by step procedures involved and what happens in the event of default by any property owners.

When the property owners were given an opportunity to speak, Bob Williams said, "We've been meeting every week since Feb. 29. We've learned more here tonight."

Responding to Mozilo's comments, Williams said, "Did we choose to build there? Yes, but we met flood control requirements and town setbacks."

He called MCFCD "useless," and said, "The timing is screwed up by the feds but it would be a shame to let this opportunity pass."

Copenhaver thanked the town staff, stating he was very proud of the town. He said, "Our house was 80 feet from the floodway 25 years ago. Please look at this favorably. Have compassion for the eight of us. We need your help."

Bob Colvert stated he was absolutely amazed at town staff and said, "On an individual basis, we are unable to protect our property. This is the only way we can do this. Most of us are probably able to afford this but unable to do it on our own."

Diane Recine reiterated, "We can't do this alone."

Bunch said there was too much government involvement for the property owners to be able to help themselves.

Councilman Adam Trenk said, "I think we have to discuss this. I'll approve this tonight but I want to see something in writing from each of these property owners saying they're willing to accept the costs … You folks may not be getting along so well after the work is done and we don't want to be held responsible for …" making the decision.

Mozilo agreed and said he wanted something in writing too that they would accept one-eighth of the cost or pay by frontage.

LaMar said, "I'm not going to lecture you … I know there was a royal 'we' you just heard. I'm not part of that. You're not welfare recipients. You're not going to get a lecture from me."

Francia said, "This is not the most difficult agenda item I've ever had to deal with. It's the most complex. I think it will be helpful to council to keep Mr. Rosenfeld's opening statement in mind that this is a step by step process. Otherwise it will overwhelm us."

He then said council owed a debt of gratitude to Town Manager Usama Abujbarah and Rosenfeld for their work in putting the components together.