BY LINDA BENTLEY | JULY 21, 2010
Estado de Cholla residents highjack joint workshop session
'… council has become a shameful, self-serving circus. As far as I can see, the circus is still in town.'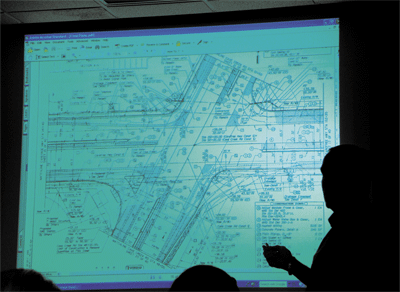 Town Engineer Wayne Anderson explained the proposed Phase I improvements for the intersection of Cave Creek Road and Carefree Highway and said Maricopa County agreed to fund $630,000 of those improvements in exchange for Cave Creek annexing the eight remaining contiguous county island parcels.
Photo by Linda Bentley


CAVE CREEK – A special joint workshop session was held at 5 p.m. on Monday for the planning commission and town council to discuss traffic circulation, improvements being proposed for the intersection of Cave Creek Road and Carefree Highway and the potential for an intergovernmental agreement with Maricopa County for cost sharing.

Town Engineer Wayne Anderson explained that Maricopa County has agreed to fund $630,000 of the estimated $1.2 million intersection improvements, the balance of which will be paid through development fees by Walmart.

In exchange, the county is asking the town to annex the remaining county island area, consisting of eight parcels (19.46 total acres), including Desert Foothills Gardens, and to take on the maintenance of Carefree Highway from 56th Street to 48th Street.

Anderson said the annexation would require 50 percent plus one of the property owners, based on either ownership or assessed value, to agree.

When asked what benefit it would be to the property owners, Anderson said they would become part of the municipality and possibly change to commercial.

Planning Director Ian Cordwell said there were three general plan amendments coming up and said, during neighborhood meetings, residents of Estado de Cholla, a subdivision at the northwest corner of Carefree Highway and 48th Street provided valuable input regarding Area 25, located on the northeast corner of Carefree Highway and 48th Street.

He said the three general plan amendments for Area 25, Area 18 and Area 10 were scheduled for the August 19 planning commission meeting.

However, residents of Estado de Cholla apparently didn't want to wait until the August 19 meeting and used Call to the Public of this joint workshop session of the planning commission and council to express their opposition to the Area 25 general plan amendment.

Richard Johnson provided a handout to the commission and council and thanked them for providing a unique opportunity to present their point of view.

Johnson stated, "I'm adamantly opposed to the three general plan amendments. I don't see the demand …" for the amount of commercial being proposed.

He said he examined the long-term supply and demand and invited challenges to his findings and stated, "I hope I'm wrong."

Some of Johnson's findings were there was 50 percent more commercial availability than average and three and a half times more retail space than average.

"Further commercial expansion borders on irrationality," said Johnson.

He said mass vacancies and decline in neighborhoods would result, adding, "It seems like long-term economic insanity."

Paul Teixeria said he didn't see any advantage to the land use change, while Randy Galloway stated he was the most affected as he lives on the corner of 48th Street and Quailbrush Road.

Galloway said, I was promised that land was residential and would stay residential. This destroys everything we care about Cave Creek."

Anne Teixeria stated she opposed the rezoning of Area 25 saying, "We spent two years renting and bought in Cave Creek because we relied on the zoning. I was very disturbed last year when three acres were under consideration. Now it's grown to 75."

David Smith stated, "A year ago we were told Walmart was on the horizon and if not there would be a massive tax increase."

Smith said he wondered if Walmart will actually get built and hoped the town will reconsider the mixed-use proposal.

Wes Cooper reminded the town that residents frequently cited Bell Road as what they don't want, but said that appeared to be the direction the town was headed.

Ron Iverson said this was his seventh year expressing the same opposition and stated 25' high buildings would achieve a complete obliteration of views.

Iverson said it was "morally wrong to balance spending on the backs of a few residents."

Russ Carlson said, as a former member of the town council and someone who's been here since the town's founding, there seemed to be an "air of desperation to these amendments."

Carlson went on to say, "Looking south, we're not happy. But we figured that's Phoenix."
He said Ron's comments were so important and asked, "If you're really going to put in a Walmart, who is going to want to compete with that?"

Rae Iverson said she was disgusted by the town's "misdirection" and stated, "I feel as though we've been invaded," calling the decisions being made "seriously out of sync" with the citizens.

Iverson stated, "The vision is not with our leaders" and said the town had abdicated its responsibilities by changing the land use designations.

She called "mixed-use" a back-door means to commercial that would encourage speculation.

In closing, she said, "Mr. Lamar, you were right when you said council has become a shameful, self-serving circus. As far as I can see, the circus is still in town."

Anderson proceeded with his presentation regarding the intersection improvements and what would be included in Phase I.

When Councilman Dick Esser asked what the timeline would be between Phase I and Phase II, Anderson replied, "Funding."

Traffic engineer Joe Spadafino, who, during a May planning commission meeting, said, "Normally, you would not want to place a traffic signal within 660 feet of an intersection" and the proposed signal for Black Mountain Plaza (BMP) north of Walmart would be about 630 feet, which he said was "close enough" to the minimum standard.

On Monday, Spadafino said he has since reassessed the signaled driveway for BMP, approximately 100 feet from Walmart's north entrance on Cave Creek Road, and said he proposed moving it another 50 feet north, which he stated was about 585 feet, on center, from the existing intersection. Spadafino also said a signal may not be warranted when the center first opens.

Planning Commissioner Ted Bryda asked if there weren't standards or guidelines that state a traffic signal should not be installed less than 660 feet from an intersection.

Spadafino said there are always situations were a shorter distance can be made to work.

Yogesh Mantri, the town's traffic engineer, was also present and stated the difference between 585 feet and 660 feet was not significant, adding, "Yes, this is not ideal, but we're coming up with recommendations."

Commissioner John Ford said, "I don't know how we can have three different traffic engineers that come up with three different ideas," while Commissioner Shelly Anderson said she found it "distressing."

Because the traffic signal was no longer being recommended, Councilman Steve LaMar stated, "We don't have to make this decision right now."

The meeting was for informational purposes and no action was taken.