BY LINDA BENTLEY | JULY 14, 2010
Thieves in the night still haunting Cave Creek
CAVE CREEK – Thieves continue to plague businesses in the town core. Sometime between 1 a.m. and 7 a.m. on July 4, two trailers, both full of donated merchandise, were stolen from For Goodness Sake, a thrift store owned by Chris and Paty Williams that benefits several animal rescue groups.
According to Chris Williams, following their big sale event on Saturday, July 3, volunteers helped load up two trailers with goods to take back to the garage where they store excess merchandise.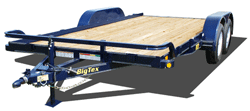 Two trailers were stolen from outside For Goodness Sake on Hidden Valley Drive between 1 a.m. and 7 a.m. on Sunday, July 4. One was a Big Tex 20-foot car hauler, similar to the one pictured above except in white. The other was a black, five by eight-foot, homemade trailer with white plywood sides and bottom.
After the trailers were loaded up, Williams parked them alongside the shop and locked them with steel cables with plans to haul the goods back to their storage garage on Sunday morning.

When they arrived at the shop around 8:30 a.m. on Sunday, Williams said it took a moment for the void to sink as they realized the trailers were gone.

Friends told Williams the trailers were still there when they drove past the shop on their way home from Harold's at around 1 a.m. on Sunday and neighboring shop owners said when they arrived at around 7 a.m. on Sunday, the trailers were already gone.

Williams said he borrowed one of the trailers, which was not insured, from a friend and will now have to pay to replace it.

The borrowed trailer was a white, 1998 Big Tex CH70, 20-foot car hauler (VIN # 16VCX1821WIE98773), with an estimated replacement value of about $2,500. The other trailer was described by Williams as a 1993 homemade black trailer with white plywood sides and bottom, which he estimates would cost $800 to replace.

On Monday, July 12, as the Williamses were driving westbound on Carefree Highway between Cave Creek Road and 50th Street, they spotted some of the donated goods along the side of the road, which they believed, since nothing was tied down, blew out of the trailer.

They continued driving westbound all the way to 7th Street but saw no other items past 50th Street, which indicated to the Williamses the thieves may have turned up 50th Street or somewhere in the vicinity.

Anyone with information about the theft of these trailers should contact Williams at info@fgsaz.com, 480-575-6760 or MCSO at 602-876-1742.

For Goodness Sake, located at 6051 E. Hidden Valley Drive, Suite 1, is open Thursday through Saturday from 10 a.m. to 4 p.m.