BY LINDA BENTLEY | JULY 14, 2010
Dog killed in hit and run on Spur Cross Road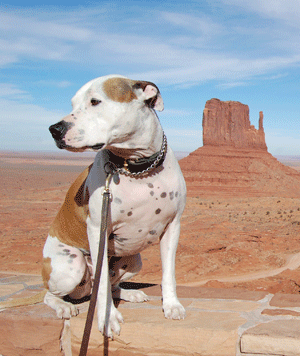 Cowan, a 7-year-old Staffordshire Terrier, pictured here on a trip to Monument Valley, was killed Thursday night, July 8, after being hit, possibly deliberately, by a vehicle on Spur Cross Road, about a mile north of Fleming Springs Road, while running (on a leash) with his owner. Courtesy photo/Christian Berge


CAVE CREEK – Christian Berge has been a common sight running along Spur Cross Road for the past six years with his dog Cowan, a 7-year-old Staffordshire Terrier.

According to Berge, on July 8, sometime between 7:45 and 8 p.m., he and Cowan, who was on a leash, were running south on the east shoulder of Spur Cross Road about a mile north of Fleming Springs Road, when a dark colored, older model, mid-sized (possibly a Honda, Toyota or U.S.-made from the '90s), generic-looking sedan with tinted windows, heading north, drove quickly and deliberately toward them, striking Cowan and only missing Berge by perhaps 12 inches.

Rather than stopping, the vehicle sped away after hitting Cowan.

Cowan was badly hurt and unable to stand on his rear legs, so Berge picked him up in his arms and flagged down the next vehicle.

During the seven to 10 minutes it took to drive to Animal Health Services, Cowan passed away leaving Berge with a sadness he calls "unbearable."

Berge said he was so preoccupied with Cowan, writhing and twisting in pain, he never asked the people who picked them up what their names were so he could properly thank them.

The incident was called in to Maricopa County Sheriff's Office, which documented the hit and run.

Meanwhile, Berge has posted flyers in the area with a picture of Cowan asking people to contact him by e-mail at xberge@gmail.com if they have any information about the incident or a vehicle matching the description, which he said would have damage to the front passenger side of the vehicle.

Anyone with information may also contact MCSO at 602-876-1742.