BY LINDA BENTLEY | JULY 14, 2010
Carefree leaves speed limit at 25, for now
'This is the greatest discrepancy I've ever seen between prevailing speed and posted limits'
CAREFREE – During a short public hearing to pass a resolution adopting the fiscal year budget for 2010-2011, Town Administrator Gary Neiss explained the budget process that began in May with a series of workshops.

He called the budget "bare bones" and said they had a 25 percent reduction in staff this past year.

With no public or council comments, the resolution passed by a vote of 6-1 with Councilman Doug Stavoe dissenting.

Stavoe later said his dissent was based on a number of things he has expressed throughout the process, noting the budget is also a guiding document that reflects some ideology with which he does not agree, such as giving salary increases while laying employees off.

During the Current Events segment of Tuesday's council meeting, Mayor David Schwan announced Chuck Wesley, owner of Cooper's Art Gallery and Brokerage, has formed a merchant's association, which currently has approximately 40 members.

Schwan said the association will be involved with branding, signage and advertising.
He also encouraged citizens to "buy local."

Vice Mayor Glenn Miller highlighted some of the aspects of the May financial report and exclaimed, "We're only down 17 percent over last year in sales tax revenue," noting many other municipalities were seeing downturns in excess of 30 percent.

With two more months of tax revenue to go, Town Accountant Jim Keen stated the town has stuck to its cash flow analysis, which initially indicated a shortfall of approximately $139,000, which is now less than $81,000, indicated the town could end up in the black.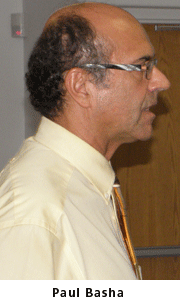 Traffic Engineer Paul Basha presented his findings and recommendations to the town as a result of his speed limit and traffic calming study for portions of Cave Creek Road and Town Darlington Drive that surround the town's business district.

The four items taken into consideration were travel speeds, intersection sight distance, accidents and crosswalks.

Basha stated, "As traffic engineers, we believe travel speeds should be posted speeds."

His study revealed over 80 percent of the traffic on certain northbound sections of Tom Darlington exceeded the 25 MPH speed limit, whereas southbound sections on the same road resulted in 100 percent of the traffic exceeded the 25 MPH posted limit, with over 80 percent of the traffic exceeding the limit by 10 MPH or more.

Basha stated, in his 30 years as a traffic engineer, "This is the greatest discrepancy I've ever seen in prevailing speed and posted limits."

Although he presented raised crosswalks as a "traffic calming" device, Basha stated he didn't feel they were appropriate for Carefree and was not recommending them.

Basha's recommendation included raising the speed limit to 30 MPH; a total of four crosswalks (including the one currently being constructed), with "in-street signs," a relatively new soft rubber sign that is installed in the street telling drivers to stop when pedestrians are in the crosswalk; two solar speed limit signs, similar to the speed limit trailers, that also show "Your Speed," flashing that number when drivers exceed the limit; and trimming vegetation to three feet for improved line of sight distance at specific intersections.

"Drivers will disobey unreasonable signs unless there are draconian measures … Drivers will obey reasonable signs," said Basha.

Councilman Bob Coady said he surveyed his constituents and the vast majority responding wanted to keep the speed limits at 25. He said the people responding lived primarily in the apartments and condos most affected.

Basha said his recommendations were consistent with the fact there have been no accidents with people traveling over the current speed limit and stated, "The reality is people are traveling faster. The theory is people will drive slower by raising the limit."

Councilman Bob Gemmill said he was reminded of when, in the '70s, the speed limit was reduced in to 55 nationwide and accidents went up. He had Basha confirm that speed was not the cause of collisions but rather variations in speed.

However, Basha stated, "People traveling 10 MPH over the speed limit was a concern."

Although the effectiveness of lane narrowing (from two lanes to one) was not included in the scope of Basha's study, in light of the fact virtually everyone is traveling in excess of the posted speed limits, Stavoe asked, "Wouldn't you say those traffic calming devices don't work?"

Basha responded, "I think your observations are correct."

Councilman Peter Koteas asked Basha for a ballpark figure for what his recommendations might cost the town.

Basha said the speed limit signs would be the least expensive at approximately $500 for all of them.

The recommended painted crosswalks and in-street signs would cost about $1,000 to $1,500 apiece, with the flashing speed limit signs costing approximately $5,000 to $6,000 each.

During public comment, Lyn Hitchon said she tended to agree with Basha's "very reasonable" recommendation to raise the speed limit to 30.

Miller stated the last three Maricopa County Sheriff's Office commanders recommended raising the speed limit and said, "It's very easy to go over the limit."

Coady said he didn't think citizens would approve of the flashing signs and urged council to "keep it simple … keep it neat," adding, "After a while, people realize they're not going to get a ticket and nothing will happen to them … They will eventually ignore the flashing signs."

Koteas asked if Basha's recommendation was "piecemeal."

Basha, responded by saying it was not, although he said the flashing signs were the most expendable.

Schwan said he would like to see the speed limit raised to 30 and in-street signs with the "cheap painted crosswalks," stating, "We can always change it back."

Coady said he couldn't support higher speed limits.

Miller moved to raise the speed limits, put in three additional crosswalks with in-street signs, and trim the vegetation as recommended for safety.

Koteas said trimming the vegetation could have issues with aesthetics and stated, "We have no idea what the costs are."

Miller's motion failed by a vote of 3-4, with Coady, Koteas, Stavoe and Councilwoman Susan Vanik dissenting.

Gemmill commented that he'd go with the recommendation of someone who's been in the business for 30 years.

Stavoe's motion to approve the crosswalks with in-street signs and trimming the vegetation identified for safety purposes passed unanimously. He commented "Then do speed limits if we need to."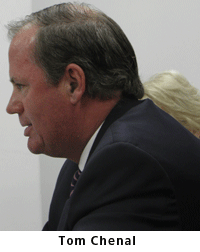 Town Attorney Tom Chenal explained the ballot initiative, changing the language of Prop. 204, direct election of mayor, so it would be consistent with state statute and with the method used to elect council by requiring a majority of the votes cast in the primary election or otherwise be elected during the general/runoff election.

Chenal later explained his legal opinion on the requirement for Carefree to have a town marshal. He said the law does not require the position to be held by any particular person, nor does it define the marshal's duties, other than collecting taxes, which he said is actually performed by the Arizona Department of Revenue.

Council voted unanimously to bestow the title of town marshal on Neiss, who is also the town's administrator and planning director.

By a vote of 5-2, with Stavoe and Coady dissenting, council approved the implementation of business licenses for businesses with fixed locations at an annual fee of $40, waiving the fee for the current fiscal year beginning July 1, 2010.

Neiss said, "Business licenses will help the town create a database," adding, "All our competition has business licenses."

He told council, "Economic development experts say, 'This isn't a tax, it's an asset.'"

By not requiring business licenses, Neiss stated, "The message to the outside world is a lack of sophistication."

Stavoe said, "A license is a tax," although he acknowledged the value of information. He also expressed being troubled by the $750 fine for non-compliance.

Coady asked, "Wouldn't it be better for the chamber to do this?"

During public comment, Kathy King, a director with the Carefree/Cave Creek Chamber of Commerce, said Neiss was "point on" and stated, "It is an economic development tool," and pointed out the $40 annual fee goes back into the marketing fund for the town.