BY LINDA BENTLEY | JULY 14, 2010
If you ain't sad, maybe you didn't know Terry Anderson
'Let's honor his memory by making sure illegal aliens are never again granted amnesty for willfully violating our borders'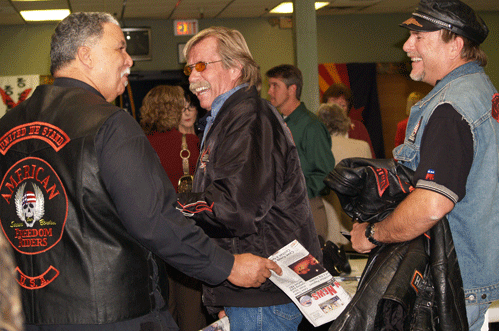 Los Angeles radio show personality Terry Anderson (l) is pictured with American Freedom Riders founders Danny Smith (c) and Rusty Childress at a fundraiser for Russell Pearce in 2006 holding a copy of Sonoran News. Photo by Linda Bentley

LOS ANGELES – Phoenix activist Sandy Miller expressed sadness and loss at the news of Terry Anderson's death last week from pancreatic and liver cancer and said, "We all looked forward to Sunday nights to hear his opening greeting, Hello, stupid people of America. If you ain't mad, you ain't payin' attention!"

Anderson leaves behind a wife and two sons.

Originally from Oakland, Calif., Anderson grew up in south central Los Angeles, where he fought to keep his community from turning into a third-world enclave through unbridled illegal immigration.

Anderson wanted people to get mad and fight back against the illegal invasion, telling his listeners they were either part of the solution or part of the problem and they needed to pick which side they were on.

He said, pretty soon everyone in his neighborhood was growing corn in their front yards and raising chickens in their back yards.

But it wasn't just a culture shift, Anderson said wages in blue collar trades such as automotive body work, which previously provided decent jobs in the black community, became depressed by the illegal alien invasion.

Then there were the gangs that took over neighborhoods, driving the blacks out of south central, where it became no longer safe to raise a family.

In 1994, Anderson helped get Prop. 187, California's Save Our State initiative, on the ballot, which voters overwhelmingly passed to slam the brakes on the economic hardships caused by the illegal alien invasion.

However, upon being challenged, U.S. District Judge William Matthew Byrne, Jr. issued a temporary restraining order, preventing the law from ever going into effect.

Anderson came to Phoenix in 2004 to inspire Arizonans with his support for Prop. 200, Protect Arizona Now. And, he was true to his word when he said he'd come back to celebrate with us when it passed.

Anderson came out to support then Rep. Russell Pearce, R-Mesa, when he was running for reelection in 2006 and on countless other occasions.

While a vocal opponent to amnesty, well at least the kind supported by Sen. John McCain and his Democratic allies, Anderson had his own version of amnesty many could easily live with.

Amnesty, as Anderson would have it, consisted of giving illegal aliens 90 days to get their affairs in order and leave. He said if illegal aliens owned a house, they needed to sell it. If they owned a car, they would need to sell it. They had 90 days. On day 91, if caught here illegally, all their possessions would be impounded and they would be charged and deported.

Anderson fought against the illegal invasion in Los Angeles, Arizona and the rest of the country for the past decade through his radio show, inspiring people from coast to coast to become involved.

Braving the blazing heat on June 5, at the Phoenix Rising rally at Wesley Bolin Park, Anderson told the crowd, "We will prevail because we are right."

No one knew Anderson was ill and it would be the last time many of us would see him.

Barbara Coe of California Citizens for Immigration Reform said, "Terry will be sorely missed. Terry's number one message was 'no amnesty for illegals.' Let's honor his memory by making sure illegal aliens are never again granted amnesty for willfully violating our borders."

A video of Anderson's June 5 speech can be viewed here.

Messages and cards may be sent to the Anderson family, 12400 Ventura Blvd. #643, Studio City, CA 91604.