BY PETE MOHR | JULY 14, 2010
Meet the Football Falcon Seniors …
Austin Stephens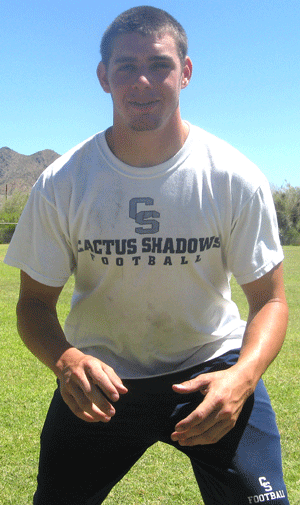 If asked to nominate/identify the "First Family of Falcon Football," that undertaking would be a slam-dunk: Creekers Paul and Louise Stephens. There is no football "vineyard" in which "P.J." ("Run the damn ball!" – his signature war-cry) and his wonderful Louise (doing whatever faithful "Football Moms" do) have not labored – mightily and unselfishly.

I suppose that comes naturally when you're raising up (or "have raised") four Falcons: Trace, 21 (CSHS '07), a force at defensive end for the 2006 4A-Division II State Champions; Anthony, 19 (CSHS '09), now "running the damn ball" for University of Redlands (Calif.), where he rooms with Falcon teammate/classmate Nick Bennett; Austin, 17 (CSHS '11), who'll see significant double duty for the '10 Falcons at running back and outside linebacker; and last, but by no means least, a growing Andrew, 15 (CSHS '13), who will log "sophomore" playing time at defensive end. Helping Louise keep all these Stephens men in line is first child Ali, 22, a drop-dead gorgeous horse-person. Truly, a wonderful family, whose hospitality is boundless!

The rest of this story is about senior Austin, "Stin" to his teammates. A combination of speed and power, not unlike brother Anthony, Austin dreams no little dreams for this upcoming season: his sights are set on rushing for 1,500 yards and making All-Region. I hope he gets his 1,500; but if he hits anywhere close to 1,000, the Falcons are going to have one helluva balanced attack – and a great season in the bargain.

"Our running backs (Cameron Larson, Joree Schneider and me) and our offensive line … the biggest we've ever had … we've got to take the pressure off Bryce (Kinsler) by putting him in short yardage situations. He's definitely talented. John (Leonard), Joree, Max (Gersh) and Gunner (Black) will give him the support of four experienced receivers. Kyle Gladstone (sophomore receiver) is going to make some big plays."

What about your senior teammates? "No question. We really need to set an example like last year's seniors. We're still learning when to get serious and when we can joke around. We'll be fine." As in "definitely making the Playoffs"… I really think we can win State."

For Austin Stephens, football is all about family and tradition. "My grandfather and my Dad grew up playing high school football in Texas. Trace and Anthony are always helping me – whatever I need. I've been around football forever it seems. I just love the game!" His expectations run straight to his family and his team.

Austin's been playing organized football since "flag" in 1st grade; so this native Arizonan (born Jan. 26, 1993 in Glendale) is not about to give it up following his CSHS graduation: "I definitely want to play at the next level, whatever the Division may be." He's heard from Occidental College (Calif.).

Falcon fans will "hear" plenty from "Stin" this season. After all, what would Cactus Shadows football be without at least one Stephens? "Run the damn ball!" Easy there, P.J. – Louise and you have got to be pretty doggone proud!