BY PETE MOHR | JULY 14, 2010
Some FIFA World Cup/soccer reflections
An update on Brendan OíHearn (CSHS '09)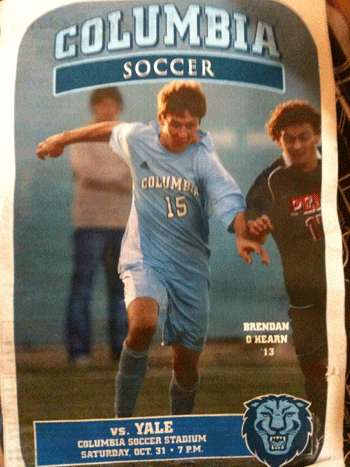 CAVE CREEK – I must confess that even when Team USA advanced to the FIFA World Cup's Round of 16 against Ghana, I was not a television viewer; and I didn't watch the Spain vs. Netherlands finals, although, in deference to our continental neighbors in South and Central America and Mexico, I did root silently for Espana.

As a sportswriter, I'm happy that for most of the last 30 days (no comment on the July 8th exaltation, stupidly-staged, of King LeBron), futbol has rightfully occupied center stage of fandom worldwide; but I'm not going to lose sleep over the fact that until the next World Cup competition rolls around in 2014, soccer will fade from our national sports radar – including the monitor manned by ESPN.

"The Worldwide Leader in Sports," is rightfully to be commended for the substantial wager the network – and it's financially-supporting sponsors – put down to be the principal media proponent of the World Cup. I found ESPN's radio coverage to be timely comprehensive, factually informative and, perhaps most importantly, unbiased.

Had Billy Jeff Clinton (I'm assuming he became a soccer fan as a Georgetown Hoya, not an Arkansas Razorback) sent me a vuvuzela (the annoying South African equivalent of a Mardi Gras horn), I would blow it loud and long, in equal choruses, for host nation South Africa, FIFA (in spite of near-disgraceful Anglophobic refereeing) and ESPN.

I'm sorry, futbol fans: soccer will never, ever become a major spectator sport in these United States. Why not? In spite of its truly compelling athleticism (try "heading" a goal) and impressive stamina (no stoppage of play except for injuries, penalties or scores), soccer, because of its low scoring, is fundamentally boring – unless you have a friend/school/family reason to be in the stands. (Night games at Falcon Stadium in late December, January and early February can be f-r-e-e-z-i-n-g!)

Soccer advocates should be satisfied that as a gender-inclusive competitive sport, it is, from its Tee-Ball equivalent through collegiate play, alive … well … and flourishing! Plaintiff's Exhibit "A"? On a soccer season Saturday morning, go down to either the Reach 11 (off Cave Creek and Pinnacle Peak roads) or the Princess Road-Hayden Road sports complex. Hats off to all volunteer coaching Dads and logistically-faithful "Soccer Moms" you'll see at both!

Now don't misread "all of the above" – I am a soccer fan – of Coach Jeff Vittorio's Lady Falcons and Coach Tony Vos's Soccer Boys. As I move into my tenth year of reporting Cactus Shadows sports, I would rank in my "Top Ten Sports Moments" the 2003 CSHS-Rincon penalty kick shootout in the mud at Dobson High that propelled the Falcons into the State Finals and, in 2009, the penalty kick heartbreak at Chaparral – the latter before the largest and most supportive CSHS "road" crowd of my coverage for Sonoran News.

As I write this article, I'm wondering with whom "Coach Tony" will be able to replace graduated super-striker Donovan Rico (CSHS '10)? And might it be possible, "Coach Jeff," that 17U National Team goalkeeper, rising sophomore Cassie Miller, will be in goal for your 2010-2011 Lady Falcons?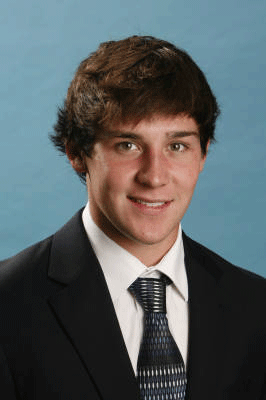 Soccer season is at least four months away; so to polish my fan's credentials, it's my privilege to publish this update on Brendan O'Hearn (CSHS '09), son of Creekers Robert and Karen O'Hearn. Brendan departs mid-August for his sophomore season at center defense for Columbia University (New York City), where he made Deans List. Finance is his probable major.

As a Falcon senior, Brendan was the team's MVP; a selection to the Arizona Republic's All-State 4A Conference squad; and the Scottsdale Republic's "Scottsdale Player of the Year."

Brendan hasn't missed a beat in "New Yawk Cit-ee." At the university's 89th Annual Varsity Celebration, Brendan received the "Men's Soccer Alumni Award," recognizing "Superior Playing Skills, Leadership and Character," even though a back injury had limited his play during the early season. Head Coach Kevin Armstrong disclosed that Brendan was his coaching staff's unanimous choice for the prestigious honor.

"My freshman year was a long one," Brendan volunteered to Sonoran News, "Balancing Columbia's academics with the physical demands of playing varsity soccer; but it was worth it. My teammates are an amazing group of guys. With the new players we have coming in – including a German who turned down playing professionally in Europe – this season looks promising."

Closer to the Valley, Brendan has continued his play for Sereno Soccer Club ('91 Team), which he tri-captained to U.S. Regionals runner-up in 2009. Over last Memorial Day weekend, Sereno won the Arizona State Cup tournament, but was ousted in late June at U.S. Regionals (in Albuquerque).

From the deepest recesses of my sports memory, circa 1954, these opening words of Columbia's fight song: "Roar, Lions, roar! And wake the echoes on the Hudson's shore!" On the pitch and in the classroom, be assured that Brendan O'Hearn will continue his own "roar." Congratulations, Brendan!