BY PETE MOHR | JULY 14, 2010
New Head Coach Spencer Grace believes 'sky's the limit!' for CSHS baseball
Native Californian, 28, vowing 'to tap every resource we have' in structuring stable program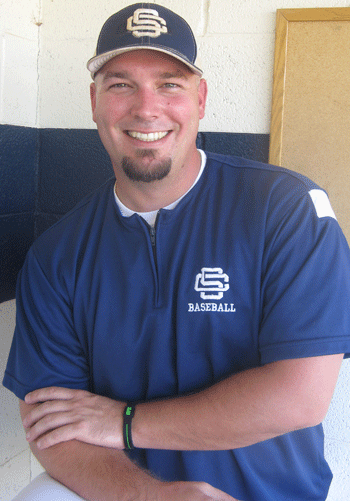 CCUSD – On Sept. 30, 2009, at a San Diego venue, Spencer Grace celebrated his 28th birthday by skydiving with the special lady in his life, one Jaimie Shea. Immediately after their successful landing, still in his parachute rigging, Spencer proposed. Jaimie accepted! They plan to take the marital "plunge" shortly after the mid-May end of the 2011 high school baseball season, which will be Coach Grace's inaugural campaign at the helm of Cactus Shadows Varsity Baseball, his first head coaching assignment.

At CCUSD's regular Board Meeting, Tuesday evening, July 13, Grace's nomination, forwarded to the Board in mid-June by a six-member Search Committee, was approved and confirmed by the Board of Governors. Grace becomes the youngest varsity head coach in the history of Cactus Shadows baseball.

Members of the Search Committee, who interviewed four finalists, screened from 17 applicants, were: CSHS Principal Steve Bebee (non-voting), CSHS Athletic Director Rick Swearengin, Boys Varsity Golf Coach and calculus instructor Jim Marando, baseball parent (four varsity Falcon sons!) Charlotte (Mrs. Andy) Goulder, community member Kevin Aholt and Men's Athletic Club baseball representative Craig O'Grady.

Principal Bebee to Sonoran News: "I'm very pleased that Spencer Grace will be our varsity baseball head coach. Last spring, his freshman program was very well organized. His players always knew where they stood and what was expected of them. I'm confident that Coach Grace will bring those same coaching skills to the varsity level."

Coach Grace, who managed the 2010 BabyBirds to an 18-2 record: "I'm excited – and humbled – by the opportunity to coach varsity baseball at Cactus Shadows. I recognize that the Falcons have made eight consecutive appearances at State, highlighted by winning the 4A-Division II State Championship in 2006. I'll be committed – and my players with me – to building upon that successful record. On the field, we're going to push the tempo and play as competitively as any team we face."

Sonoran News opines that Coach Grace's most difficult challenges, which he clearly recognizes, are likely to be off the field. He offers, "I'm hopeful that my relaxed approach to coaching will help create a more positive orientation for our program. I look forward to working with my coaches, our players, their parents, Cactus Shadows administration and the District." I hope that Baseball parents, all of whom I consider my friends, will give Coach Grace the open-minded chance he deserves to make good his goals for Falcon Baseball.

Spencer Grace was born in Torrance, Calif. and grew up in San Pedro, where, at age 4, he slipped under the T-Ball minimum age "radar" as a package deal with the coach – his Dad, a Philadelphia Phillies prospect and recipient (in Korea) of the Purple Heart and Bronze Star during the Vietnam War. After graduating from Villa Park High School in Orange County, he continued as a centerfielder at Santa Ana College before two shoulder surgeries and an ankle injury ended his collegiate playing career in the United States.

He went abroad, playing in Ireland, Italy and Belgium, returning to enroll at San Diego State, where in 2005, he earned his B.S. in Child Development. Following graduation, he began substitute teaching at the high school level and coached freshman baseball at Edison High in Huntington Beach, Calif.

Grace and Jaimie met in Orange County, June 2006, while he was associated with a fund-raising venture for non-profits. He credits that opportunity with giving him an "entrepreneurial background" he plans to creatively employ in fund-raising initiatives for Falcon Baseball.

Coach Grace came to The Valley last December, with Jaime following. She is an administrative assistant at Southwest Behavioral Health in central Phoenix. He was employed at CSHS and STMS as a substitute teacher in math and English. Shortly thereafter, Grace reconnected with his longtime baseball friend, Eric Averill, a "Wall of Fame" pitcher at ASU, who introduced him to Billy Horton, owner and director of Cactus Camps, a baseball skills enterprise in Phoenix. Horton introduced Grace to (then) CSHS Head Baseball Coach Baker, who hired him to coach Freshman Baseball. When Coach Baker's contract was not renewed because of certification disagreements with CCUSD, Grace applied for the varsity head coaching position.

His sister, Stephanie Grace, 32, will teach freshman English at CSHS and, as a former National Championship cheerleading coach at Berea-Olinda High School (Berea, Calif.), will assist her brother by putting the Baseball Falcons through agility and flexibility exercises, her time permitting. It's "all in the family," right, Coach?

My first encounter with Spencer Grace was a hostile one – entirely of my intentional initiation. From his gracious acceptance of my apology, proffered soon thereafter at the rightful encouragement of a mutual friend, I'm confident that Coach Grace will lead his program with a good heart. Let ours, toward him, be the same.

Coach, congratulations to Jaimie and you! May your tenure as Cactus Shadows' head baseball coach be personally rewarding and professionally fulfilling in every way.