BY PETE MOHR | JUNE 23, 2010
Meet the Football Falcon Seniors …
John Leonard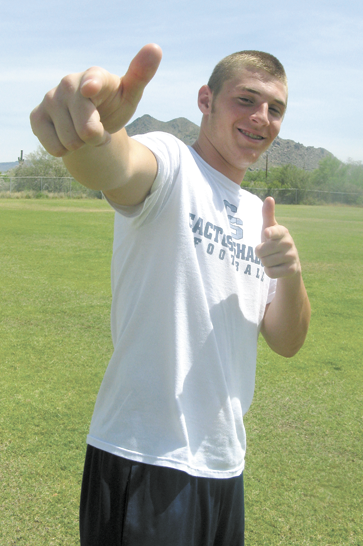 I was one of the fortunate Cactus Shadows fans who luxuriated in taking the chartered "Falcon Flyer" to Vail, Ariz. (about 15 miles southeast of Tucson), where the 'Birds would set the tone for their 11-1 season with a last-play 32-31 thriller over homestanding Cienega.

Football parents John Leonard and his lovely wife Kristine organized the ride, which will always be one of my favorite CSHS sports memories. I'm already pre-signed for the trips to Flagstaff High (Oct. 1, replacing "closed" Sinagua and Queen Creek, Oct. 29). "Take the bus, and leave the driving to us," the old Greyhound slogan. Right-on!

Football son, John, would record the first two of his season's eight touchdowns (six TD receptions, two rushing). With classmate Joree Schneider and seniors Tommy Murphy and Brady Dombrowski, he helped fulfill Head Coach Chad DeGrenier's pre-season prediction that the quartet of those four receivers would more than compensate for 2008 MVP Danny Trittler's defection to Chaparral. "Danny Who"?!

John Leonard returns for his senior season. Even in the shorts and T-shirt of Football Camp, it's easy to see he's bigger (at 6'2", 190 lbs.), stronger and faster. Most importantly, from interviewing him June 21, Falcon fans can take to Kobe Bryant's press conference "bank" that John Leonard, 2nd Team (Offense) All-Region in 2009, is locked-down determined "to make myself better – and everyone else around me. We seniors are going to flip the switch that will make this team click: no messin' around! We're gonna do that either at Brophy (this Friday and Saturday's Passing League Tournament) or our Team Bonding Weekend (early August)." Write down those words as his unmistakable commitment to the "senior leadership" that will propel the Falcons to a successful 2010.

John was born March 17, 1993 in Elizabeth, New Jersey. Younger brother, Michael, 15, already looks to be a promising running back for the BabyBirds. The Leonard family moved to The Valley in 2000. "Right after we got here," son John recalls, "I played 'flag' football – and haven't stopped since." What does it mean to him to be a Football Falcon? Without hesitation: "Family. My second family, out to prove that Cactus Shadows football is who we are."

A solid 3.5 GPA student, John will play at the next level, encouraged by "letters of interest" he's received from Washington University (St. Louis), Nebraska and Princeton; but his "right now" focus is upon winning the 4A-I State Championship and making 1st Team All-Region (Desert Sky).

John pointedly assured me, "The only people who can stop us are ourselves." I predict John and his senior teammates are going to make certain that doesn't happen. John Leonard, you're going to have the great season you're already working hard for.