BY PETE MOHR | JUNE 23, 2010
Princeton-bound Kelsey Janke: '09-'10 Girls 'Athlete Of The Year'
'Don't hit it to #5!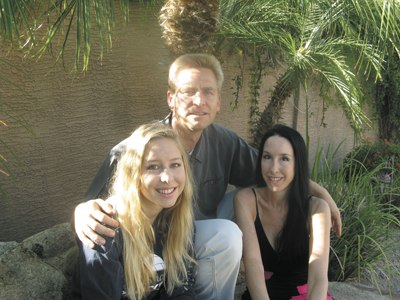 CSHS – About the midpoint of her junior season, I settled into what became sort of a postgame congratulatory ritual with volleyball defensive specialist and "libero" (a "super" defensive specialist) Kelsey Janke. After she and her teammates had finished taking down the net and supporting poles, I would greet her, "Don't hit it to #5!" She would smile, almost sheepishly, then quietly respond, "Thanks, Pete."

Almost a year-and-a-half later, three nights prior to her May 20 Cactus Shadows graduation, I offered different congratulations: this time on her outstanding academic achievements (#2-ranked senior, National Honor Society, Spanish Honor Society) that named her Salutatorian for the Class of 2010. Her acknowledgment was equally modest. (It should be noted her classmates honored her to be a senior attendant in Homecoming's 2009 Court.)
As both co-captain (with junior Summer Anderson) of 2009 Girls Volleyball, which lost in the State 4A-I finals to superpower Sunnyslope (unbeaten for the second consecutive season), and Class Salutatorian, Kelsey Janke exhibited the same commitment, effort and tenacity. Sonoran News is pleased to announce her as 2009-2010 "Girls Athlete of the Year."

Come Aug. 17, Kelsey departs for Princeton University (Princeton, New Jersey), where her academic and athletic achievements have commendably earned her a substantial scholarship. She hopes to be the starter at defensive specialist for Head Coach Jolie Ward's Lady Tigers. Scholastically, Kelsey plans to complete her pre-medical school requirements and expand her Spanish studies.

In Kelsey's three varsity seasons, the Lady Falcons made State Finals twice (2007 and 2009), and lost to Sandra Day O'Connor in a fiercely-fought five games 2008 quarter finals match. 1st Team All-Region and Honorable Mention State in 2008 as a defensive specialist, Kelsey, at 5'4", unselfishly stepped up in her senior season to fill a void for Head Coach Tom Gardner at outside hitter. Even from her new position (there are very few 5'4" outside hitters) she was named 2nd Team All-Region, earning Honorable Mention State honors for the second consecutive season.

The turning point in her volleyball career? Playing for McKenzie Dunning and Lindsay O'Callaghan at DAMS. She candidly recalled for Sonoran News, "If I hadn't made the 6th grade team, I might've quit. "Quit?" Over the next six years, Kelsey Janke never saw a hard service or slam she didn't think she could return! Or at least try to. Diving … lunging … tumbling … somersaulting … after every ball hit her way, Kelsey's tenacious athleticism was close to amazing!

This summer, she's enjoying recreational reading and playing "sand volleyball" with classmate Michaela Shuler (headed for Boston University) and Shan England (CSHS '11).
Her central thought about entering Princeton? "I can't wait! I'm excited to see what lies ahead for me!" Falcon siblings, Lexie, 16, a rising senior and Varsity Pom member, and brother Parker, 15, a rising sophomore, will miss their "big sister." So will Coach Gardner, his MVP. But keep your volleyball eye on Kelsey's back court partner, Jordan Smith. What a spectacular tandem they were!

Congratulations, Kelsey. Go get 'em, #5!