BY PETE MOHR | JUNE 17, 2010
Rockies Draft pick Logan Davis, CSHS '10
Likely to accept Hofstra University scholarship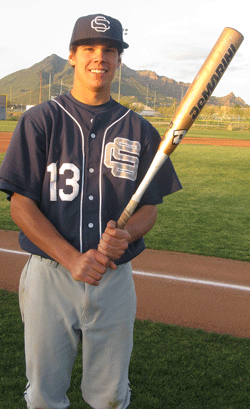 CAVE CREEK – On Tuesday, April 13, the visiting Saguaro Sabercats (eventual State 4A-I champions) had treated the Falcons to an embarrassing 15-3 "mercy" rout. Two afternoons later at Saguaro, with Co-Captain Jaron Long pitching, the Falcs amazingly led the 'Cats, 2-0, bottom of the 6th. Josh Gibbons led off with a line single to right center. Brandon Demorest grounded sharply toward the hole, but senior shortstop Logan Davis ranged to his right, made a terrific backhanded stop and flipped to second baseman Co-Captain Charlie Dominick to start a "Highlight Film" double play, the first of three defensive gems (credit leftfielder Ryan Nemger and Gulickson with the other two) that would turn around the Falcons' season.

On Wednesday morning, June 9, at approximately 10:15, Logan, 18, listening on MLB.com to the third day of Baseball's 2010 Amateur Draft, heard his name announced as the Colorado Rockies selection in the 38th Round. Davis had completed and forwarded "draft eligible" packets to the Rockies, Seattle Mariners, St. Louis Cardinals, Boston Red Sox and Florida Marlins, whose area scouts had expressed interest in drafting him.

He shared with Sonoran News, "I was really listening for the names of some of my high school baseball friends. When I heard my name and my draft ID number called, I was shocked! Excited! Weird! After hoping to get drafted, all of a sudden, I was! A great feeling!"

Logan is the older son of north Scottsdalians Mark and Candy Long. Younger brother, "C.J.," 15, is a rising sophomore at Cactus Shadows, where he played freshman baseball (at shortstop) and basketball. Their older sisters are Taylor, 24, who lives in California, and Maddie, 21, a rising senior at Kansas University.

Baseball fans will remember Mark Davis as the National League's 1989 Cy Young Award winner, who became pitching coach, 2002-2004, for the Arizona Diamondbacks. Mark Davis is now the year-round director of minor league pitching for the Kansas City Royals at their Surprise, Ariz. complex.

On National Signing Day last November, Logan signed a letter of intent with Hofstra University, Hempstead (Long Island), NY. "Realistically, as a 38th round pick, I'm not expecting the Rockies to make me a financial offer that would cause me to turn down my scholarship at Hofstra. I'd like to honor my commitment there, then see where I might be drafted at the end of my junior year," he outlined to this writer. His targeted departure date is Aug. 26.

"Log" (pronounced "Loag") was a major contributor to the Falcons' successful 2010 season (13-6) – and a tie for 6th in A.I.A. Power Points. He hit .433, with eight doubles, six triples, one HR, 24 RBIs and 20 stolen bases. At short, his range and strong arm anchored the Falcs' infield.

In his first 2009 at-bat, as a junior year transfer from Chaparral, Logan led off against the visiting Firebirds with a first-pitch line single to right center. "Running past my former teammates as I headed for 1st is probably my favorite memory as a Falcon," he recalled. "I really enjoyed my two years at Cactus Shadows, especially getting to play my senior season with Jaron (Long), my best friend."

Good luck at Hofstra, Logan. You'll have plenty of time to enjoy a "Rocky Mountain High" – or wherever your baseball career may take you.