BY PETE MOHR | JUNE 16, 2010
CCCF closes regular registrations on-target
Cheerleading sign-up open all summer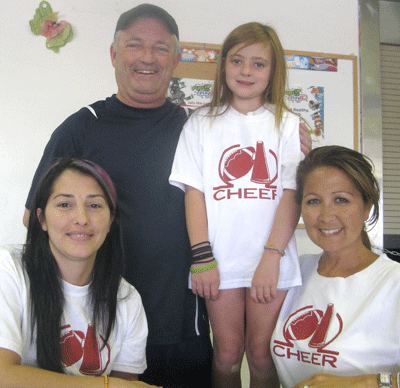 FIVE-TIME STATE CHAMPS Coach Rika Cuff, Director (seated, r.) and Irene Kufner, Manager, (seated, l.) welcome Allyson Pershina, 9, a rising 4th grader at Black Mountain Elementary School, to CCCF's cheerleading program, resuming this summer/fall after a three-year hiatus. Proudly registering his daughter was Dad, Doug Pershina.


CAVE CREEK – When Cave Creek/Carefree Youth Football (CCCF) volunteers closed the books on the last of their regular registrations for the upcoming 2010 season, they were pleased to tell Sonoran News, "We're right where we hoped to be," meaning 220 aspirants signed up for tackle, 100 for flag football and 19 for cheer, which resumes this season under the direction of CSHS Head Cheer Coach Rika Cuff. She'll be assisted by Creeker, Irene Kufner. Late registrations for football? Go to cavecreekfootball.com for details and instructions.

Kudos to CCCF's governing board for bringing back the cheerleading program after a three-year absence. And thanks to CSHS Head Cheer Coach Rika Cuff for taking on the revival challenge. "We want to get these young cheerleaders thinking 'Falcon Pride' early on … encouraging them to want to be a Falcon cheerleader someday. There are too many talented, athletic kids – boys and girls – leaving the district. I'm only one of many CSHS coaches determined to stop that trend."

My two grandchildren live in Virginia Beach, Va., but I agree with Coach Cuff – it's time for CCUSD, from top to bottom, to take an open-minded look at these "defections." A large dose of old-fashioned common sense would be a welcomed first step in the right direction. Five Cactus Shadows athletic directors in the last two school years does not paint a picture of stability. And "Facilities Management," is getting closer to blowing up in CCUSD's collective face. Manager Dennis Roehler and his shield-in-high-places, Dr. Kent Frison, need to start listening to CSHS coaches and the Foothills parent volunteers of young athletes.

Five-time State Champs Cheer paying to practice? And user fees for CSHS coaches' summertime conditioning/speed camps? Who's authorizing Roehler to levy these charges? The absurdity of this heavy-handedness makes last spring's arbitrary tearing down of the Falcon Field pressbox look like peanuts! And I'm thinking "The Hot Dog Guy" was lucky – at least Dr. Frison didn't impound his cart! Paraphrasing from the opening scene of the 1976 award-winning movie, "Network": "(They're) mad as hell! And (they're) not going to take it anymore!" It's time for a 60th Street Tea Party: "No fees without representation!" Back to CCCF cheerleading.

"We'd like to have five teams of five girls each, whose hands-on coaching will be provided by my Varsity cheerleaders. Irene and I will be responsible for management and coordination of the CCCF cheerleaders' practices and their appearances at games, which, in time, will include halftimes of JV Falcons games," Director Cuff to Sonoran News. She continued, "We want to give these young girls an understanding of the What, When and Why of cheerleading. From that understanding, I believe they will grow into individual accountability and a passion for the sport.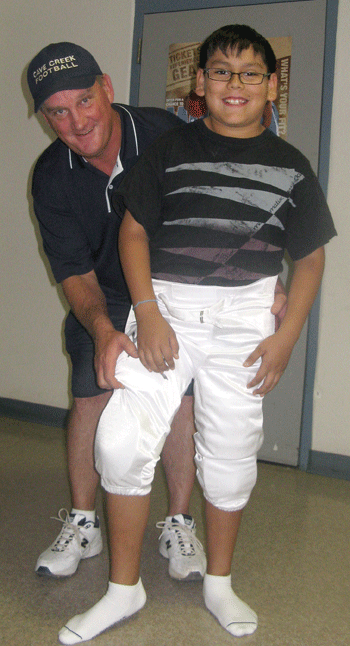 At Sonoran Trails Middle School are experienced Head Coach Michelle Wetzel, aided by former Falcon varsity cheerleader, Assistant Coach Emily Johnson. Rika Cuff envisions youth cheerleading as a very important first step in CSHS Cheer's "farm system." She will make CCCF's cheer program successful. Parents can count on that.

Registration will remain open through the summer – for details e-mail cheer@cavecreekfootball.com. A fee of $250 covers full participation in all cheerleading events and related activities. Let's hear it, girls: "C! C! C! F! Yay!"


Christian Urbina, 11, a rising 6th grader at Desert Sun Elementary, trying on a pair of XL football pants at last Saturday's registration. Christian is the son of Creekers Thomas and Ofelia Urbina.
Photos by Pete Mohr