BY LINDA BENTLEY | JUNE 9, 2010
Land uses modified with Prop 207 in mind
EPAís proposed emissions controls could increase cost of CAP water by 200 to 400 percent with no perceptive

CAVE CREEK – Monday night's council meeting began by pulling items from the consent agenda, which included staff's request to continue three items for deeds of gift to the town for dedicated rights-of-way by the Bullington family, and, by advice of legal counsel, a lot line adjustment of the town's right-of-way boundary and acceptance of the same area as an easement, for Gabe Royer that would "resolve an issue of building non-compliance for the barn that was built on the property by the previous owner without a building permit."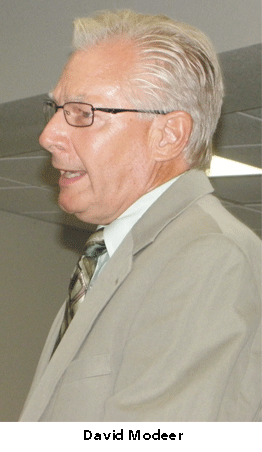 A presentation was made by Central Arizona Project (CAP) General Manager David Modeer regarding emissions controls being considered by the EPA and other regulations coming down the pike that would have a devastating effect on the Navajo Generating Station that could make it too costly to operate.

According to Modeer, CAP is the largest user of electricity in the state and just last year used 2.8 million mega-watt hours to deliver more than 500 billion gallons of Colorado River water to 80 percent of the state's population.

CAP's power needs are due to moving that volume of Colorado River water between Lake Havasu and the end of the system south of Tucson 336 miles to an elevation 2,800 feet higher than where it began.

CAP has asked the EPA to allow the use of high-intensity burners at the Navajo Generating Station for the next 10-15 years to see how well they work and give CAP time to find and link up to other sources of energy.

The Navajo Generating Station provides 90 percent and 80 percent of the income to the Hopi and Navajo tribes, respectively. If forced to shut down, Modeer said it would have a devastating effect on both reservations.

Modeer also said losing Navajo Generating Station power would increase water rates throughout most of the state by 200 to 400 percent, affecting Maricopa, Pinal and Pima counties.

He said, "This is a significant issue for us and we want to engage support from those affected."

Anyone interested in learning more about the issue can visit CapSmartEnergy.com.
Council voted 5-2, with councilmen Jim Bruce and Steve LaMar dissenting, to approve the first reading of an ordinance changing the Bullingtons' 13.68-acre parcel located at the southeast corner of Cave Creek Road and Carefree Highway from Commercial Core (CC) to General Commercial (GC) zoning.

Planning Director Ian Cordwell said the request was in conformance with the general plan and stated the site plan submitted by the Bullingtons included three PADs (planned area developments) with drive throughs, one bank and two restaurants. He told council the Bullingtons decided to apply for a zoning change because drive throughs are a permitted use in GC zoning districts, whereas with the existing CC zoning, each PAD would have to apply for a SUP.

Then, with Proposition 207, the Private Property Rights Protection Act, passed by voters in 2006, in mind, council cautiously amended Appendix A of the zoning ordinance, describing the uses allowed in each of the commercial zoning categories.

Provisions of Prop. 207 not only bolstered private property rights by defining what may be condemned under eminent domain proceedings, it also allows for claims against municipalities that pass ordinances and regulations that diminish a person's property value.
Mayor Vincent Francia had council go through the document, section by section, to determine if anyone had any proposed amendments.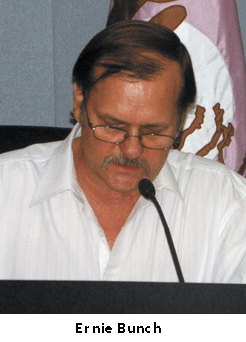 Vice Mayor Ernie Bunch, stating, "I'm a property rights advocate," and starting with the category of Adult Business, said, "This is the first example of a use once allowed in the Commercial Core (CC)" as he moved to restore the use in Commercial Core with a special use permit (SUP). The motion passed by a vote of 5-2 with LaMar and Councilman Ralph Mozilo voting no.

Councilman Adam Trenk moved to allow animal arenas, commercial stables and equestrian centers in CC and GC with site plan review rather than requiring a SUP.

With council deadlocked 3-3, with Mozilo, LaMar and Bruce dissenting, Francia abstained from voting on the amendment until after council finished going through the rest of the document.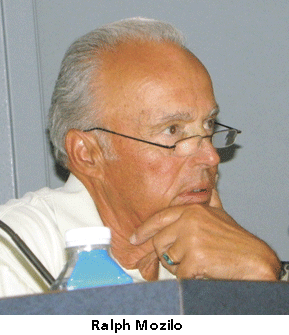 Mozilo, who cited his concern that everything possible in GC should generate taxes, moved to require a SUP for GC instead of just a site plan review for each item listed in the Educational and Religious category.

The motion, seconded by Trenk, who commented, "I agree with Councilman Mozilo wholeheartedly," passed by a vote of 5-2 with Bruce and Councilman Dick Esser dissenting.
Mozilo's motion suggesting the same change be made to the section that includes child, group and elder care homes and institutions also passed with Bruce voting no.

Bunch moved to retain all previous less restrictive designations, of which some passed and some failed.

It was noted that there used to be a category for paint and body shops that appeared to be inadvertently omitted from the document.

Francia said the category should be included when the document is brought back for a second reading.

Going back to the deadlocked item, Francia, after giving the amendment thoughtful consideration, broke the tie by voting no.

Council then voted unanimously in favor of passing the first reading of the ordinance as amended with Bruce and Esser complimenting staff and commenting about the joint workshop held prior to the item coming to council being very beneficial.

Bunch said the revisions were "overall, good for the property owners of Cave Creek."

Trenk said the passage of HB 2246, which permits the sale of consumer fireworks by a retail establishment to persons at least 16 years old, unless prohibited by a governing body of a city or town, was brought to his attention by friends of his who are firefighters.

He requested that town staff be directed to work with the League of Cities and Towns and the town attorney to determine an appropriate procedure/ ordinance to limit such sales.
Town Attorney Fredda Bisman said the bill was passed with a Dec. 1 effective date, so the town had ample time to draft an ordinance.

Rural/Metro Chief John Kraetz, who said firefighters support an ordinance restricting sales, advised council the new law pertains to items such as sparklers, which he said burn at 3,000 degrees, but that bottle rockets and fireworks involving projectiles are still illegal.