BY PEGGY DYER BROCK | JUNE 9, 2010
A gathering to celebrate the life of a hero
Tony Nelssen remembered at WestWorld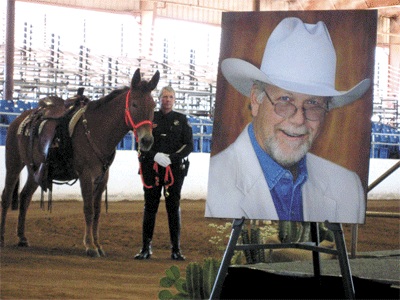 There's a huge hole in the hearts of horsefolk in our readership area, many of whom attended Tuesday's Memorial Service in the Equidome at WestWorld for a man huge in stature and spirit, Tony Nelssen.

At 6'8" tall under his favorite Stetson hat, Tony presented a formidable image in the halls of Scottsdale City Hall where he served as City Councilman and on his mule Peaches on the trails all across our northeast swatch of precious desert landscape that he fought so vigorously to save from over-development.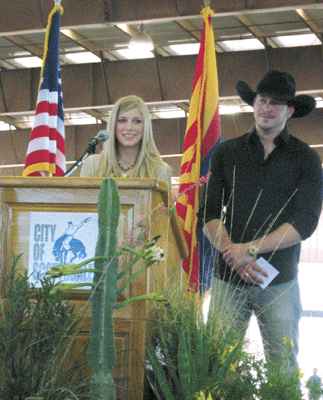 He softened to become the beloved everyday guy he was when he sat on his porch with his wife Marg over the years, doting on daughter Hannah and son Ian (who spoke joyously about their dad before a crowd of over 300 teary-eyed people). A bagpipeband, color guard, and Peaches as the riderless horse saluted Tony. He was a huge presence in Cave Creek, too, as his inspiring fortitude for horseman's rights earned him the 2002 Horse Hero Award that he was so pleased about that he rode ole Peaches with the Horse Hero entry every year in the Fiesta Days parade.

It will take some time for the hole Tony leaves to heal and, if ever, to be filled.