JUNE 9, 2010
Ventana Academy's Sandra Casady wins Silver Apple Award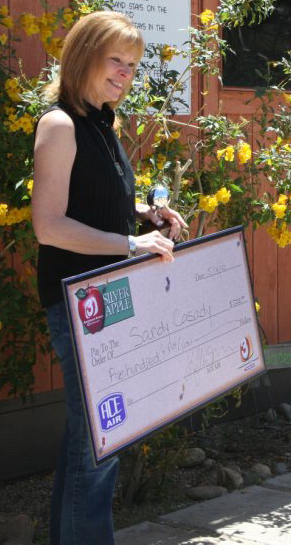 CAVE CREEK – Sandra Casady, a teacher at Ventana Academy in Cave Creek has received the Silver Apple Award, sponsored by channel 3 and Ace Air. The award was presented to Mrs. Casady on Friday, May 14. Along with the award, Mrs. Casady received a check for $500.

In 1991, 3TV created the Silver Apple Award to recognize outstanding teachers who have made a difference in the lives of their students. Each year, hundreds of teachers are nominated from across the state of Arizona by thousands of students. Each entry is read and considered by an expert judging panel comprised of educators and community leaders. The judging panel then selects eight Arizona teachers for the Silver Apple award. Mrs. Casady also received a special visit from 3TV's Patti Kirkpatrick and Ace Air and will be showcased in 3TV's Good Evening Arizona program.

Any student enrolled in kindergarten through 12th grade in an Arizona school may nominate their teacher. Scott Manos an eighth grade student at Ventana Academy had nominated Mrs. Casady for the difference she's made in his life. "She truly inspires her students to do their very best" Scott said.