BY PETE MOHR | JUNE 9, 2010
Jerome Pena and TCU teammates play Texas for College World Series berth this weekend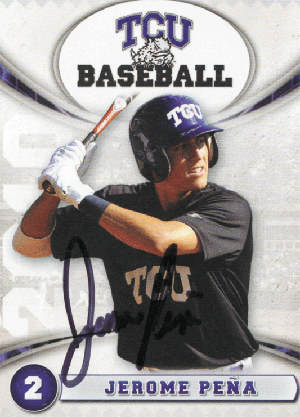 Courtesy Photo/TCU Athletic Department
Jerome (Romey) Pena [CSHS '07], middle son (between Frankie [CSHS '05] and Anthony [CSHS '09]) of Creekers Frank and Diane Pena, and his Texas Christian University (TCU) teammates are only two wins away from the College World Series in Omaha, Neb. The Horned Frogs, 46-11 for the regular season and currently ranked #4 in the nation, swept last weekend's Regional competition (including U of A) at Fort Worth, Texas. This weekend, they travel to Austin to face #3-ranked Texas (also 46-11 in regular season play) in a "Super Regional" best-two-out-of-three match-up. The winner goes to Omaha!

For Pena, this is a "Highlight Week": Tuesday, June 8, was the start of Major League Baseball's Amateur Draft, with the "Super Regional's" first pitch three days later. In the 2009 draft, he was selected in the 40th round by the New York Mets, but chose to accept TCU's scholarship offer.

"I'm pretty excited," he conceded by phone to Sonoran News, "but first things first – and that's beating Texas and going to the College World Series." With large dollars about to be put on his table, Romey is being Romey – as cool and low-keyed as ever.

On May 13, 2006, Pena pitched the Falcons over Arcadia, 13-6, to win the 4A-Division II State Championship. In his CSHS senior season, he co-captained the 'Birds with Zach Wilhelmi. After playing two years at Western Nevada Community College (Reno, NV), he moved on to TCU. This regular season, in 213 at bats, he hit .333 with nine home runs and 49 RBIs. The Frogs' 2nd base starter, Pena was named All-Region, Mountain West Conference, and to last weekend's All-Regional team.

Catch Romey and the Horned Frogs at 2 p.m., Friday, June 11 on ESPN2. Hook them 'Horns!