BY LINDA BENTLEY | JUNE 2, 2010
Rep. Shadegg secures passage of 'Jenny's Law'
Victims fought and finally won an end to this outrageous injustice
WASHINGTON – In 2001, on Halloween, a recent college graduate named Jenny returned home from work in Tucson where James Allen Selby, a former soldier, jumped out of a closet, dragged her into the shower, bound her wrists and ankles with duct tape, and raped her at knife point.

Selby, a serial rapist, was accused of attacks against women in Cleveland County, Okla.; Sparks, Nev.; and San Diego.

He was charged with attacking five Tucson women and a teenage girl between October 2001 and May 2002, sexually assaulting three of them.

In Oklahoma, he faced charges of rape, sodomy, burglary and kidnapping in the September 1999 assault of a 9-year-old girl, who was pulled out of her bedroom window in the middle of the night and raped in nearby woods.

Selby was featured on the TV show "America's Most Wanted" as the subject of a multi-state manhunt, with DNA evidence linking him to 15 sex crimes.

He was convicted in Pima County Superior Court in 2004, at the age of 37, on 27 of 34 counts of sexual assault, kidnapping, attempted murder and other charges.

Selby represented himself throughout his trial and was scheduled for sentencing on Nov. 22, 2004.

However, at around 7 a.m. that morning, a corrections officer at the Pima County Adult Detention Center found Selby hanging from the window of his cell. Records indicate he was last seen alive at approximately 6:45 a.m.

Selby was pronounced dead at around 7:30 a.m. when paramedics from the Tucson Fire Department were unable to resuscitate him.

But then, to the shock of Jenny, her family and the other victims, Selby was provided a burial at Fort Sill National Cemetery, with full military benefits, including a military honor guard, a U.S. flag and a certificate from the President.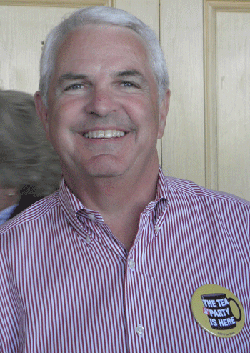 In 2007, Rep. John Shadegg, R-Ariz., was approached by Jenny's father, Steve Bush, to end this practice. Shadegg introduced legislation that year and each year since called "Jenny's Law."

Bush, Jenny and several victims groups have fought to end what they called an "outrageous injustice."

While Congress banned veterans convicted of capital crime from receiving such honors following the Oklahoma City bombing by Timothy McVeigh, veterans convicted of rape remained entitled to the same.

Shadegg said, "It demeans the honor of all those who have served this nation to allow a perpetrator of such a heinous crime to be buried alongside America's heroes in a veterans cemetery."

Late Friday, Jenny's Law, denying veterans convicted of forcible rape from receiving full military honors, was passed as an amendment to the National Defense Authorization Act, which also passed the House on Friday.

Shadegg said he was "happy to have been able to finally secure passage of Jenny's Law and that no rape victim will suffer the pain of watching the individual accused of raping her be buried in a military cemetery with full military honors."