BY LINDA BENTLEY | JUNE 2, 2010
Bullington site plan continued to address concerns over traffic signal
'We get one shot at this. We need to get this right.'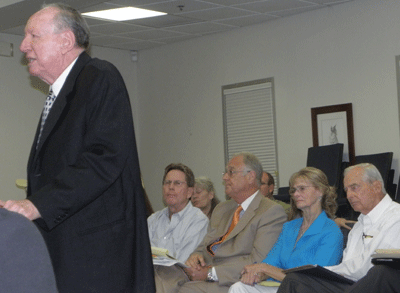 Ben Pearson spoke in favor of the site plan for Black Mountain Plaza and the proposed traffic signal, which would also provide access to his residential property, he has applied to have rezoned. Seated behind Pearson, from right, are Dr. and Mrs. Robert Bullington, Attorney Paul Gilbert and Kent Bro.
Photos by Linda Bentley


CAVE CREEK – On May 27, the planning commission unanimously recommended approval of Appendix A – Use Descriptions of the zoning ordinance, with a few amendments, defining commercial uses by zoning category and identifying uses in each that would require a special use permit (SUP) or site plan review.

Although "Adult Businesses" was brought forward by staff as being restricted to General Commercial with a SUP, Commissioner Ted Bryda's motion to allow it in Commercial Core as well, citing it would remove a use previously allowed, failed by a vote of 3-4, with Commissioner John Ford and Vice Chairman Reg Monachino voting with Bryda in favor of the amendment.

Those voting against the amendment said their recollection of the town attorney's advice was they could restrict where adult businesses may locate but could not zone them out altogether.

The next item on the agenda, rezoning of the Bullington family's property at the southeast corner of Cave Creek Road and Carefree Highway from Commercial Core to General Commercial passed with a unanimous recommendation for approval, with Commissioner Peter Omundson commenting, "It just makes sense."

However, during discussion of Black Mountain Plaza's site plan for the same parcel, Omundson, who moved to recommend approval and said, "I like the plan overall," expressed concern the Bullingtons and Walmart have been unable to resolve their differences.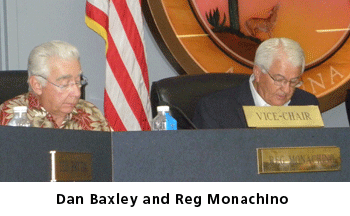 Planning Director Ian Cordwell said the town received comments from the city of Phoenix regarding the 205-foot setback for the Scenic Corridor with "numerous comments" from Scottsdale, regarding traffic.

When Monachino questioned the Scenic Corridor setback, Cordwell explained the 205-foot setback is only a suggestion, whereas the requirement calls for a 105-foot setback from the center of the road, and said the applicant meets that requirement.

Additionally, in reviewing properties along the Scenic Corridor, Cordwell pointed out Phoenix did not meet the 205-foot setback it was requesting.

Bryda stated there were an "enormous amount of entrances and exits" to the project.
Attorney Paul Gilbert, representing the Bullingtons, said, "We're in agreement with staff's comments. We're asking for no variances and there's a specific finding we are compatible with surrounding development."

He said the Bullingtons' traffic engineer worked "very carefully" with the town's traffic engineer and the proposed traffic signal would be the only full turning entrance capability into the project.

Gilbert also noted the city of Phoenix hasn't complied with the 205-foot setback it was requesting.

Commissioner Shelly Anderson questioned the five entrances and exits to the site and the fact that 56th Street was very close to the intersection, which she believed would invite cut-through school traffic.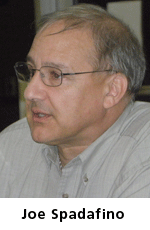 Town Engineer Wayne Anderson introduced Joe Spadafino, the town's traffic engineer, who said five entrances/exits was quite common for a commercial development of that type and explained each of their uses.

Spadafino said, normally, you would not want to place a traffic signal within 660 feet of an intersection. He said this would be about 630 feet, which he commented was "close enough" to the minimum standard.

During public comment, Wes Cooper said several years ago when he spoke to Mayor Vincent Francia, who just returned from having lunch with Dr. Bullington, the mayor told him they were "proposing a nice looking office complex for the site."

Kent Bro, who owns the Chevron Station at the southwest corner, said when he built the gas station in 1998, there was no median. He stated, "I'd be perfectly happy to move my driveway to the south to line up" with the proposed traffic signal, and, in which case, he would "back this plan 100 percent."

Bro said, "I guess my comment is I'd be happy to support this if I could share the same access."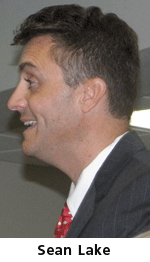 Walmart Attorney Sean Lake stated, "We absolutely support the Bullingtons' project." However, he said, "Walmart has a very strong opinion" about the proposed traffic signal, which he stated was only 60 to 100 feet from Walmart's northern driveway.

Lake said Walmart designed its site to stack traffic based on a light at the intersection, pointing out it initially proposed a traffic signal at Barbie Lane but pushed it down to Olesen Road with only "right in and right out."

Stating the proposed traffic signal "will cause significant problems," Lake said, "We support their site plan but we have a problem with a signal at that location approximately 100 feet north of our main entrance."

He also said Walmart's proposal for shared access with the Bullingtons' project was still on the table.

Ben Pearson, who owns residential property south and west of the Chevron Station, and who organized a group of adjacent residential property owners to apply for mixed use zoning two years ago, said, "We have no objection to the site plan and traffic signal. This traffic light will provide us with access."

Gilbert stated, "The traffic light we're proposing is beneficial" to Bro and Pearson and "solves the problem these properties face."

He said, "The traffic engineers have documented evidence the light will not cause the stacking problem as indicated by Mr. Lake," adding, "It is very disingenuous of Mr. Lake to say we can have a shared drive … Walmart gave us a list of restrictions on our property as a condition of shared access."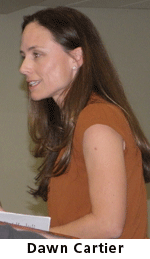 Dawn Cartier, the Bullingtons' traffic engineer, told the commission, "We had to do a more detailed study than we've ever done for any commercial shopping center."

According to Cartier, the study showed stacking of 36 feet, which she said allows them to time the traffic signals together.

Bryda asked, "Which traffic signals?"

Cartier responded, "All of them," including the signal at Olesen Drive.

When asked about traffic volume and what she used for peak hours, Cartier said she looked at one hour between 4 p.m. and 6 p.m. on a weekday and provided estimated volume, by direction, as 14,000 northbound, 10,000 southbound, 13,500 eastbound and 12,000 westbound, indicating there is a 10 percent increase in traffic during the one peak hour.

Chairman Dan Baxley asked what the current traffic was at the intersection.

Cartier said current traffic is approximately 10,000 northbound, 7,500 southbound and 8,500 in each direction eastbound and westbound.

Baxley stated, "We get one shot at this. We need to get this right."

Commissioner Bob Williams stated, "We've not heard from Kimley-Horn (Walmart's traffic engineers)," and said he'd like to see the motion withdrawn and the case continued.
"We're not going to resolve this tonight," said Williams.

Anderson said the commission would benefit greatly by obtaining additional information.
Ford said he is looking out for the residents of Cave Creek, stating, "I pass through that intersection every day."

Baxley thanked staff for their work and stated, "But sometimes we disagree."
Cordwell recommended continuing the case until the June 17 meeting.
However, Bryda said, "I don't think June gives us enough time."

Anderson's motion to continue the case until a date uncertain carried unanimously.