BY PETE MOHR | jUNE 2, 2010
'Seven-on-seven' to Tucson; Falcons 2010 Football schedule released
CHSH – Falcon Summer Football Camp is in full swing. Head Coach Chad DeGrenier tells Sonoran News, ìIím very excited about this football team. We have over 70 kids in Camp, up significantly from last summer. That number, and how hard these kids are working, is going to pay off for us, when we kick off our season, at home, against (Tucson) Cienega on Friday, Sept. 3."

In this, his seventh season at the Falcon helm, "Coach D." is quietly aware that early-season results will depend upon how quickly he can bring along sophomore Bryce Kinsler, his third quarterback protégé (Phillip Aholt of the '06 State Champions, and Dillon Classen from the last fall's 11-1 squad). "We're gonna put a lot of good players around him," Coach DeGrenier plans.

This writer sees Kinsler as a quietly confident young man with an accurate arm. I predict he'll be a lot more than just this team's "sleeper." Fresh off their 2-0-1 performance at Pinnacle's June 1 Passing League Tournament (PLT), these Falcons will be a major part of the contingent heading down to Tucson, Saturday, June 5, PLT at the U of A.

Football fans, Sept. 3 will be here before you know it!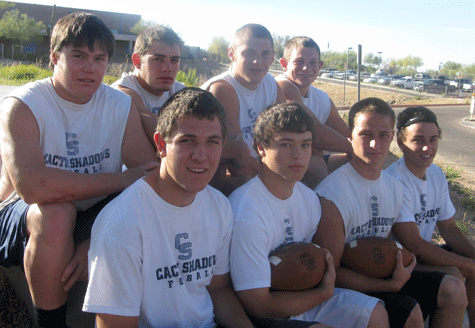 Pictured (back, l-r) running backs Cam Larson and Austin Stephens; receivers John Leonard, Max Gersh; (front, l-r) center Chris Noel, QBs Kinsler and Tony Payne, receiver Joree Schneider. Photo by Pete Mohr