BY PETE MOHR | jUNE 2, 2010
Ventana's Mustangs on the move!
CAVE CREEK – At best, I habla poco Espanol. Accordingly, late in the afternoon of May 24, Ms. Patty Russell, sports liaison and special education aide at Ventana Charter School, tutored this sportswriter that "ventana" is Spanish for "window." The signage above the school's entrance, N.E. quadrant of Cave Creek and School House roads, appropriately proclaims "Opening Windows of Opportunity;" and, as I learned from Ms. Russell, those "windows" include a sports program that is growing under the volunteer direction/coaching of her husband, Steve Russell, whose day job is owning/managing his valleywide business, Russell Pest Control.

At Ventana, whose principal is Ms. Helen Shoulders (whom I know as the mother of Lady Falcon Basketball standout alumnae Elizabeth, Emily and Molly!), Coach Russell oversees four sports, which are co-ed rostered and compete in the United Spirit League: "flag" football, soccer, basketball and softball. Seven girls "cheered" for football.

In the just-completed school year, the Mustangs won championships in soccer and softball, finishing 2nd in "flag" and basketball.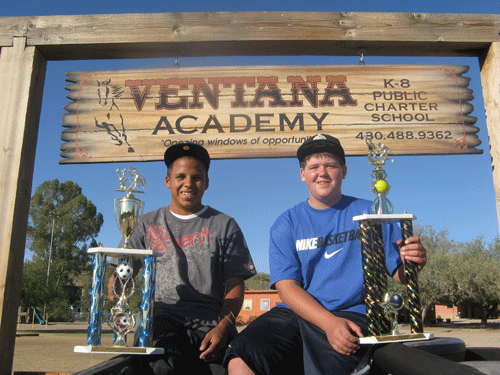 Photographed proudly holding championship trophies were 8th graders Alex MacIntosh (l., soccer), whose parents are Creekers Steve and Mary MacIntosh), and Ashton Harris (softball), son of Creeker Kevin Harris, DDS. Not available for photo was star 8th grader Truong Nguyen, who, at 6'5", played all four sports. Ms. Russell lauded young Truong as "our Ninja warrior!" [Hopefully, he will play for Head Coach Tyler Dummett's Basketball Falcons!]

Patty Russell to Sonoran News: "We believe that athletics are an integral part of 'core knowledge,' and can play an important role in changing an attitude of defeatism to one of enthusiasm. We've watched our 8th graders advance their personal growth into leadership, which positively affects the whole team." Ms. Russell volunteered that Ventana is "open to adding other sports," such athletic program growth potentially accelerated by increased enrollment that may result from the recently announced CCUSD decision to close Desert Arroyo Middle School.

Watch out for the Ventana Mustangs! They're on the move!