BY PETE MOHR | jUNE 2, 2010
From Turf Paradise to Minnesota's Canterbury Park, Creeker Ry Eikleberry rides to #16 national ranking!
PHOENIX – On Sunday morning, May 2, after The Kentucky Derby, national attention in the thoroughbred racing world was understandably focused upon jockey Calvin Burrell's third winning ride in the last four Derbies. Closer to home, on the last day of the racing season at Turf Paradise, the "buzz" was all about Ry Eikleberry, 21, who'd already clinched his second consecutive "Leading Jockey" title, measured in number of trips to the winner's circle.

In the 2009-2010 season, this talented, tirelessly-working jockey, youngest of Kevin and Pam Eikleberry's three sons (Rustin, a Phoenix firefighter, and Rhet, Sonoran News "Horse Hero" in 2003 and a wildlife biologist working in Jackson Hole, Wyo.), rode to 152 1st Place finishes, up 16 wins from his 2008-2009 total. Now racing at Shakopee's Canterbury Park (Minneapolis area), where he currently leads in both quarter horse and thoroughbred races, Ry, in wins, ranks No. 16 in (national) jockey standings. He'll return for the Oct. 1 start of Turf Paradise's 2010-11 season.

While racing at Canterbury, Ry met and won the heart of lovely Jilique Joubert, whose family is also involved in thoroughbred racing. Jilique doubles as Ry's principal dietician, making sure her man carries no more than 118 lbs. on his 5'10" frame, not an easy task. His height makes him a virtual "freak" in the Jockey's Room among the diminutive Central American men with whom he interacts easily. An older jockey smilingly volunteers to this writer, "Hey! I ree-meem-ber Ry wheen he was leetle-beety boy!"

Although competitors in a dangerous profession, his compadres obviously have great respect for Ry's skills, a compliment to his outgoing, modest personality. It would surprise me if Ry could even spell "e-g-o!"

There are very few persons – men or women – who earn a six-figure income doing something they love. Ry does. "Some days it feels a little like work; but most times, I'm thinking how much I really love racing!" To what does Ry attribute his improvement? "I believe I'm riding stronger … I mean, getting the most out of my horse over the last 50 yards of the course. I know I've got a lot to learn."

Ry's no stranger to the winner's circle, voted "Most Outstanding" wrestler as a Cactus Shadows freshman. One more year as a Falcon, then Ry was off to become an apprentice jockey. Having recently purchased a home in Fireside (north Phoenix), he is comfortable with his Turf Paradise-Canterbury Park axis. Will owners/trainers at the older, more prestigious tracks in California be calling soon? Neither he nor his Jockey's agent Mike Pierce will allow that prospect to distract them.

For those readers not familiar with the structure of thoroughbred racing, the hierarchy is relatively simple: start with the owners, who like Kevin Eikleberry, can also be trainers. It's with the trainers that Mike Pierce principally negotiates. His job is to get Ry "up" on the most competitive horses of those owners/trainers bidding for his ride. Ry must depend upon Mike for the best possible "book." And he gladly does so. He's not about to forget where he came from – and how Mike's hard work has contributed to his growing success. You might say theirs is a mutual admiration society. Approximately 10 percent of a winning purse goes to the jockey, with allocations then made by the jockey to his agent and other persons in support functions. With 152 wins, he generated more than enough dollars to go around!

This particular Sunday is almost like a holiday for Ry and Mike. There are no horses to be worked in the morning (Ry is usually at the track by 6:30 a.m., immediately huddling with Mike about the day's "book" – both working and racing). On the day's card (nine races), Ry will ride in five, finishing with the Arizona Thoroughbred Breeders Association Spring Sales Stake (8th race) and the Hasta La Vista Handicap, the longest race on turf in the U.S., which will end the season. He rides both of his mounts to wins! Ry pockets roughly $7,500 for his afternoon's work.

There follow victory photos, farewell pizza bought for all in the Jockey's Room, hosting dinner with family at The Olive Garden, then home, where Jilique and he will begin packing for their separate drives to Minnesota. Guided by Kevin, and betting on the jockey (Ry, of course), this writer goes home with $85 first-time winnings!

Congratulations, Ry, on your "repeat" at Turf Paradise. Keep your jockey trim in Minnesota, Jilique! And Happy Summer to all Eikleberrys! See you at the track come October!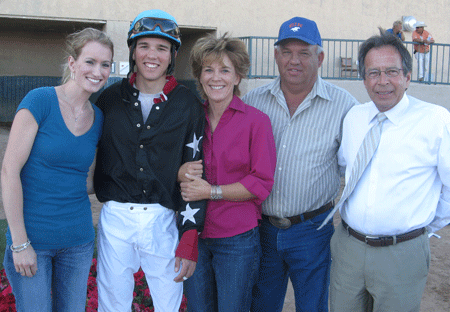 Pictured: (l-r) Jilique, Ry, Pam and Kevin Eikleberry, Mayor Vincent Francia (Director of Marketing and Media Communications at Turf Paradise) Photos by Pete Mohr