BY LINDA BENTLEY | MAY 26, 2010
CCUSD's 'great needs' exacerbated by poor fiscal stewardship
'Our students need all of the above and as we know, they are our future'
CCUSD – While Cave Creek Unified School District heartily supported Prop. 100, which passed by a large margin on May 18 and will raise Arizona's sales tax by one cent for the next three years to contribute to education, health care and public safety spending, Superintendent Debbi Burdick posted her May 2010 "vodcast" (video podcast) CCUSD's website indicating the district is not finished asking for yet more money.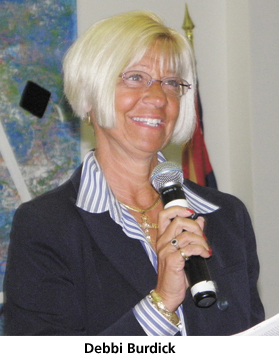 The transcript of Burdick's vodcast, posted on the same web page, stated, "Today I would like to talk with you about the potential for future elections in our district. We have great needs in our district exacerbated by the budget challenges of our state and national economy.

"We need new text books; we need repairs for our school facilities; we need modern technology resources for our 21st Century learners; and, we need our teachers to continue the quality education Cave Creek Unified students are accustomed to and deserve.

"However, in tough times and in a tough economy, we know that it is a hard choice to increase property taxes … We appreciate the support the community has given us over the history of the district and the support they have provided in bonds and overrides to help us keep our class sizes small, provide all day kindergarten and build beautiful, functional schools when are (sic) population was growing."

Meanwhile, district taxpayers are paying principal and interest on bonds issued more than three and a half years ago, expressly for the purpose of building a new high school even though no new high school is being built and the issuance of those bonds is in violation of IRS regulations that could render the tax-free bonds taxable.

The district has not answered repeated questions regarding what it plans to do to bring the district into compliance on this issue.

Instead, the district hoped legislation introduced last year by former Senator Jim Waring, who resigned to run for the United States Congress, would override the will of the voters and allow the district to use the bond proceeds for other purposes.

Such legislation violates Arizona's Constitution.

Burdick goes on to say, "This school year, a large group of committed staff, parents and community members met for months as part of a Financial Feasibility Committee. They studied the needs of our district and deliberated over what was most critical and whether the community could support a November election. They recommended we investigate running an election this coming November.

"In the next month, we will be asking our constituents through a random sample survey what they feel they can support for CCUSD's future. Should it be an override to continue to support teachers in the classroom and/or should it be a bond for our facilities and technology? Or, should we not attempt an election in such difficult economic times?"

Every CCUSD override has come with the same pledge to reduce class size. However, according to its Annual Superintendent's Report submitted to the Arizona Department of Education year after year, CCUSD class sizes have remained virtually unchanged.

Overcrowding at the high school has more to do with the district's allocation of resources.
Despite the International Baccalaureate (IB) program being costly; having no particular benefit toward college acceptance, as do Advanced Placement classes; and some IB classes having as few as three and eight students; IB was never considered for the chopping block during budget cut talks.

And, the district always offered all-day kindergarten. The only difference is, until former Governor Janet Napolitano decided all taxpayers should fund the second half of all-day kindergarten, parents paid for the second half if they wanted their children to attend.

While bonds to build a new high school were issued over three and a half years ago, despite it having no plans to build a new high school, the district is still using 10 percent of the bond proceeds for other projects, as would otherwise be allowed by law.

Some of that 10 percent money was used for "grounds improvements" at Cactus Shadows High School, which included changing the configuration of the fencing surrounding the campus, creating a main entrance and planting a grassy area.

The December edition of the CSHS student newspaper announced the bond proceeds would now be used to build an 80,000 square-foot addition to the existing campus and the bond proceeds for a new high school would be transferred to the project in addition to the $12.25 million previously approved by the School Facilities Board (SFB).

The plans pictured showed a good deal of the grounds improvement work recently completed would end up being relegated to the scrap heap by the new expansion project.
However, following its April 7 meeting, the SFB not only announced it did not have money for projects and would have to sell bonds to produce funds, it advised CCUSD Associate Superintendent of Finance Kent Frison the SFB voted unanimously to reduce its previously approved project for CSHS because of lower student population projections (original projection of 640 high school students reduced to 285 students).

That would decrease funding from $12.25 million to $5.45 million.

Since then, however, legislation was passed increasing the SFB's square foot funding from $142.85 to $165.05, meaning, instead of $5.45 million, the district would receive $6.38 million, still only half of what it expected.

However, there is still the matter of the bonds already issued, approved specifically for building a new high school. Once bonds have been issued, the purpose for which they are issued may not be changed, neither by the voters nor the legislature.

Then there's the closure of Desert Arroyo Middle School (DAMS), which was awarded an "A+ School of Excellence" designation by the Arizona Education Foundation based on its evaluation of "student focus and support, active teaching and learning, curriculum, leadership, community and parent involvement and assessment data."

While DAMS is the only school in the district to receive such a designation this year, on May 18, the governing board, in a non-unanimous vote, decided to close DAMS, counter to numerous parents' wishes.

And, despite the fact DAMS was being considered for closure over the past several months, the district replaced the gym floor rather than reprioritizing the needs of the district.

Burdick told a parent the school will be leased out and, therefore, the work still needed to be completed.

Sonoran News has since learned the district plans to lease DAMS to the YMCA, although no such agenda item has come before the board.

Burdick's vodcast continued, "Our students need all of the above and as we know, they are our future. We hope that if you are contacted, you will take the time to respond thoughtfully to the survey.

"Our hope is to continue our quality schools, which means a quality community."

The "great needs" of the district are exacerbated not just by the economy but by fiscal irresponsibility as well, as CCUSD continues to ask voters to sacrifice so it won't have to.