SHARI JO SORCHYCH | MAY 26, 2010
Weslie Swift one of 15 in Arizona selected for journalism workshop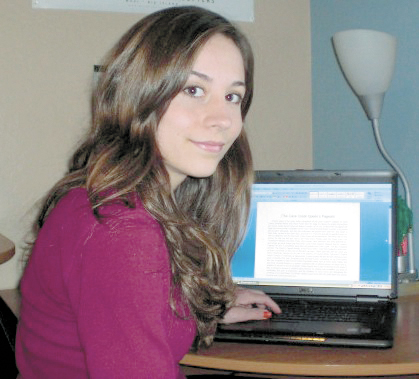 When Weslie Swift, a local home schooled sophomore, submitted her application for the University of Arizona School of Journalism "Journalism Diversity Workshop for Arizona High School Students," she knew the competition from fall 2010 juniors and seniors around the state would be fierce.

The program offers a reality experience in writing, reporting, editing, media law, digital design, photojournalism techniques and multimedia journalism. Participants will engage in discussions on journalism ethics, produce a newspaper and stories for the website.

Students will work as members of "The Chronicle" with college mentors, professionals in journalism – including a Pulitzer Prize-winning editor – a former foreign correspondent and many other award-winning faculty! The workshop is under the direction of Professor Lisa Button.

Weslie recently received an e-mail from University of Arizona School of Journalism congratulating her on acceptance into the June 5-13 Journalism Workshop, celebrating its 30th anniversary this year.

"I thought it would be great, but with only 15 students within the state being chosen, I wasn't expecting it," said Swift.

Sonoran News is very fortunate! Weslie walked in the door last fall and offered to volunteer with us. Her goal is to become a journalist so being the very bright, talented person she is, Weslie, age 15, has been published with her own byline several times in Sonoran News. We hope she will continue writing on timely topics and issues, such as her new home school series, for Sonoran News.