Tyler Dummett is new Head Coach of Cactus Shadows
Boys Basketball
By Pete Mohr | May 19, 2010

Committed to bringing žsound, exciting basketball to our players, their parents, our fans and the communityÓ
CSHS – In the late afternoon of May 10, at the Fine Arts Center, CSHS Principal Steve Bebee enthusiastically introduced Creeker Tyler Dummett as the new head coach of Boys Basketball. An audience of approximately 150 – parents and basketball players, ranging in age from D.F.A.C. hoopsters to Varsity Falcons – gave Coach Dummett an affirming welcome to his new position.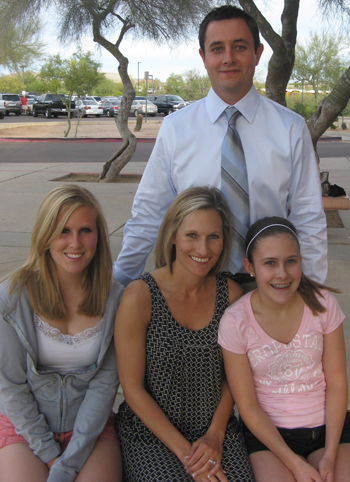 Principal Bebee: "Our Search Committee received 37 applications from well-qualified candidates; but in the end, we recognized that the best man was right here under our nose." Serving with Principal Bebee on the Committee were Athletic Director Mark Huston, Assistant Principal Rick Swearingen, Girls Head Basketball Coach Ryan Pletnick and a basketball parent/community member Steve Laine.

At the beginning of his acceptance remarks, Coach Dummett offered perhaps his most significant assurance: "Cactus Shadows Basketball is not going to focus on where we've been, but where this program is going. My coaching staff and I will demand teamwork and total accountability, both on and off the court. We'll be committed to bringing sound, exciting basketball back to Cactus Shadows."

Coach Dummett, 33, a native Iowan and a graduate of Buena Vista University (Storm Lake, IA), came to The Valley in 2002 with former head coach Nate Bjorkgren (now in his third season as assistant coach of the NBA Development League's Iowa "Energy"). He's no stranger to Cactus Shadows Basketball, first coaching the Falcon Freshmen in 2004-2005; taking a year off to pursue a non-basketball business venture; then returning to mentor the JV squad for three consecutive seasons: 2006, 2007, 2008. Dummett's coaching record over those four seasons: 127 wins, 19 losses. "Do the math:" That's a winning percentage of .869!

In a May 18 telephone interview, Sonoran News asked Coach Dummett to identify his top three priorities. He responded emphatically, without hesitation:
"Number One: stop the talented kids from leaving the District." [This writer's aside: will CCUSD's "EduCrats" (they know who they are) ever understand that playing musical chairs with Cactus Shadows' athletic directorship creates an appearance of instability that plays right into the hands of the would-be "recruiters" (they, too, know who they are).]
"Number Two: assemble, as quickly as possible, a quality coaching staff. That effort is already underway."

"Number Three: change the basketball 'culture' at Cactus Shadows – for our players, their parents, our fans and the Desert Foothills community."

In April 2006, Dummett assumed primary responsibility for directing D.F.A.C.'s youth basketball programs. "D.F.A.C. provides almost a year-round opportunity to play competitive and recreational basketball, in which no kid is overlooked. I firmly believe that D.F.A.C. can continue to be a major component in the success of CSHS Basketball. I hope to stay involved with D.F.A.C. as much as my time and my family will allow."

Coach, with Summer League basketball right around the corner, you've got more than a "full plate" to tackle. Welcome back – and good luck!