Sprinters senior Geoff Byers, soph Jenny Gormley pace track to 11th (Boys) and 13th (Girls) at State
By Pete Mohr | May 19, 2010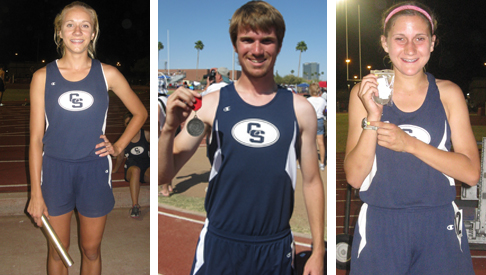 Standouts at State: (l-r) Soph Jenny Gormley set new CSHS record in the 200m dash; senior Geoff Byers finished 2nd in the 100m dash, 5th in the 200m; freshman Dani Zalewski ran a strong 3rd in the 3200m (two-mile) run.

Gormley's new CSHS record in 200m becomes 6th mark to fall in 2010 season
MESA – "If you can't run with the 'Big Dogs', stay on the porch!" Well, as you can see from the accompanying photos (and scoring results), the Track Falcons – Boys and Girls – did anything but "stay on the porch!" Guys and Gals finished 11th and 13th, respectively; and looking to the future, they can take pride in the six CSHS records set this season:
Girls pole vault (Maya Erler), Girls 4X100m relay (Casey Paul, Merritt Thompson, Paige Kratzke, Jenny Gormley), Girls 200m dash (Jenny Gormley), Boys 4x100m relay (Joree Schneider, Ryan Toomey, Tommy Murphy, Geoff Byers) and senior Matt Schneider "doubling" at Regionals in the long jump and triple jump.
First-season Head Track Coach Geoff Johnson to
Sonoran News
: "State was a competitive learning experience for our kids. Some of our athletes put up 'P.R.s' (personal records) at State. Others, perhaps, may have peaked at Regionals, but all gave their best. My coaches and I couldn't be more proud of their season. I want to express my special appreciation to Coach Patty Egan: first, for her knowledgeable track presence, and second, for the wonderful job she did with our sprinters."
At State, finishers numbers 1-4 "medal;" numbers 1-8 score. Falcon scorers are listed on the right.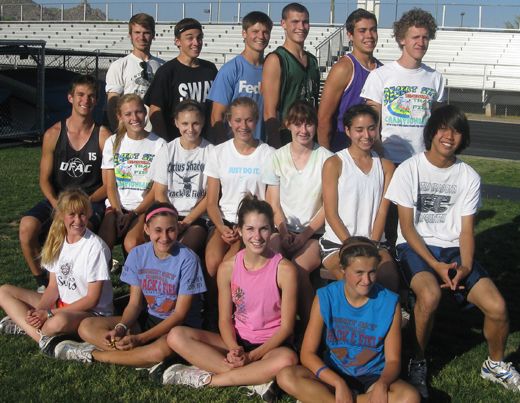 25 TRACK QUALIFIERS FOR STATE! (front-l-r) Terri Baker (FR), Dani Zalewski (FR), Kate Accola (JR), Taylor Engbrocks (FR); (middle, l-r) Ryan Toomey (SR), Paige Kratzke (SR), Merrit Thompson (SR), Jenny Gormley (SO), Casey Paul (FR), Jesse Hass (SR), David Tze (SO); (back, l-r) Geoff Byers (SR), Joree Schneider (JR), Matt Schneider (SR), Kyle Gunter (SR), Tommy Murphy (SR), Walker Bohannan (SR). Not available for photo: Keith Omundson, Ryan Storck, Celeste Montgomery, Maya Erler, Connor Henry, Kelsey Nigbur (SR), Max Gersh (JR), Ethan Homan (FR).

Congratulations, Track Falcons, on your State qualifying performances.

Photos by Pete Mohr