Historic Stamp Mill being rebuilt at Museum: One year later
May 12, 2010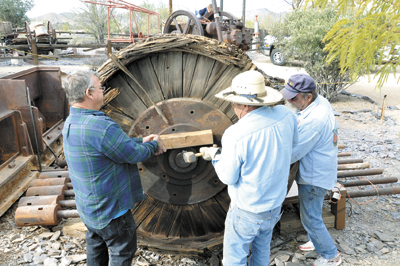 A year has passed since Cave Creek's original historic 10 stamp mill was transported from the Golden Reef Mine on Continental Mountain to Cave Creek Museum. Volunteers have logged more than 515 hours working with 80,000 pounds of iron pieces. The Museum is seeking more volunteers, donations, and materials to complete the project. Courtesy photos by Evelyn Johnson

Museum seeks volunteers, donations, and materials to complete project
CAVE CREEK – A year ago, Cave Creek Museum volunteers began the process of transporting Cave Creek's original 10 stamp mill and its associated parts from the Golden Reef Mine site on Continental Mountain to the Museum.

Since then, volunteers have logged 515 hours cleaning, fixing, and lugging more than 80,000 pounds of iron pieces on Museum property as they worked to restore and rebuild the historic stamp mill that is believed to date back to 1880.

"The sheer massiveness of this project has been unbelievable," said Evelyn Johnson, Cave Creek Museum's executive director. "We're extremely proud of our Stamp Mill Dream Team, which is led by our board member Al Zeman and Charlie Connell of the Phoenix Mining Museum. Both are equally passionate about seeing the stamp mill restored and they have gone above and beyond to make this dream a reality."

Johnson said while some museums house stamp mills, typically they are from another location.

"We are thrilled to have the original stamp mill from our own Cave Creek mining district, which stretched as far west to 1-17 and included Cave Creek, Carefree and North Scottsdale," she said.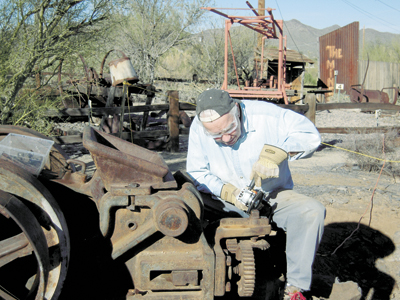 To date, volunteers have been successful in getting the stamp mill's primary crusher and winch working. Currently, the team is working on constructing a new wooden bull wheel so they can run the mill when it is assembled. The original hub was cracked years ago and the team must first fix the hub so the wheel can be attached. Once the cam shaft is refurbished, volunteers will begin work on the large timbers needed to hold the mill in a vertical position.

Zeman said, that if all goes well, the historic stamp mill will be completely restored in two years, standing 20 feet tall near Skyline Drive.

"One of the greatest challenges we encountered dealt with removing the bull wheel and cams from the original cam shaft. These were tight fitting parts, full of more than 100 years of rust. The cams each weigh about 200 pounds so nothing is easy to work with," he said.

With more labor-intensive work ahead, the Museum is seeking support from the public.
"In addition to monetary donations, we need long timbers for the mill. These can be very expensive so we are hopeful of finding some used timbers. And, we're always in need of more volunteers," Zeman said.

Large and heavy stamp mills were used in the late 1800s and through the 1920s to crush hard rock ore so that the gold could be separated and saved.

"At one time, many such mills were reported to exist in the Cave Creek Mining District," Zeman said. "There is some indication that the Golden Reef stamp mill may been used as late as the 1940s. Wood provided the fuel to run the steam engines needed for power, which is why there are not many old growth mesquite trees in Cave Creek."

Johnson said the Museum's volunteers should be commended for their tireless devotion to the project.

"We have also received incredible support from APS and Marco Crane. APS helped us move more than 20 pieces from Continental Mountain to the Museum, while Marco Crane has been involved with the pressing off of the bull wheel and cams from the shaft. And of course, we are so grateful to Marty and Joni Chattman for donating the stamp mill to the Museum last year. Thanks to everyone involved, we'll soon be showcasing a rare survivor of a by-gone era," she said.

The Golden Reef Mine stamp mill was declared to be an Arizona State Historic Property by Arizona State Parks in 1986. Museum guests can view it along with several outside exhibits, including ranch implements and large tools, a gazebo, the first church of Cave Creek, and the last known original Tubercular Cabin in Arizona, which is on the National Register of Historic Buildings.

Located at 6140 Skyline Dr., Cave Creek Museum features an extensive collection of prehistoric and historic artifacts that describe the lives of Native Americans, miners, ranchers and pioneers.

For information, call 480-488-2764, or visit their website at www.cavecreekmuseum.org.