U.S. Senate candidate J.D. Hayworth gets warm Tea Party welcome
By Steele Coddington | May 12, 2010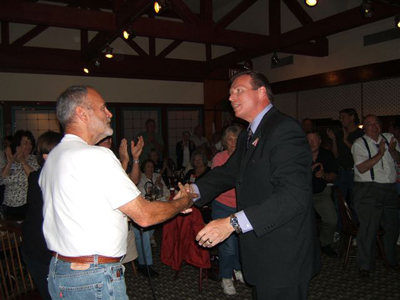 N. Phoenix Tea Party leader Wes Harris (left) introduced U.S. Senate candidate J.D Hayworth to enthusiastic members at their weekly meeting in Phoenix.
Photo by Steele Coddington


N. PHOENIX – J.D. Hayworth, former conservative Congressman and candidate for the U.S. Senate, running against John McCain, got an enthusiastic introduction from North Phoenix Tea Party leader Wes Harris and a warm welcome from an overflow crowd at Marie Callendar's restaurant on Cactus Road. The large audience liked what they heard from Hayworth, whose message resonated with the Tea Party's major theme – a crying need for Congress to protect the Constitution of the United States from the destructive agenda of what is referred to as the "Obama's regime" in Washington, D.C.

In his opening remarks Hayworth pointed out that the major media doesn't seem to understand the Tea Party's intense opposition to "change" that involves their Constitution and he elaborated with examples of government bureaucracies that mandate regulations without congressional approval or oversight. In fact, he described one of his first bills in the Senate, as a Constitutional Citation Act which would require legislators to cite the section of the Constitution that gives them the authority to enact the legislation they seek to pass. To emphasize the need for guardianship over our Constitution, he cited Ben Franklin's response to a question asked of the Founders, "What sort of government have you given us?" Franklin famously replied, "A Republic, if you can keep it!"

Hayworth cited his major disagreements with Senator McCain on issues that McCain has championed, focusing particularly on the Tea Party's adamant opposition to comprehensive immigration reform. That is "amnesty" he said emphatically "and it will not work." Other indicators of their differences included their records on taxes, with Hayworth actually helping to author the Bush tax cuts, while McCain opposed the cuts. McCain voted for big bank bail-outs while Hayworth has opposed them.

The litany of differences was distinct and included disagreement with McCain's attempts to write an amnesty bill with then Senator Kennedy – McCain's version of Cap and Trade with Senator Lieberman – McCain's vote to confirm Eric Holder, current Attorney General of the U.S. who favors not only the closing of Guantanamo, but treating terrorist enemy combatants as criminal defendants.

Former Representative Hayworth also observed that in light of the Cook County, Illinois political regime being transferred to Washington, D.C., the senate needs new conservative realists to deal with the Democrats, not life-time incumbents dedicated to formality and polite bipartisanship like an ancient Greek senate chamber. He promised in closing, "When elected, I will serve only two terms," and in answering ensuing questions, outlined his major objectives to strengthen the Constitution and fight to change the liberal agenda that treats immigration as a political matter. "It is an invasion and needs to be stopped."
The evening was described by one Tea Party activist as a political hand-shake with J.D. and a meeting of the minds.