Lady Falcons win "Peoria Bowl," 21-17
By Pete Mohr | May 12, 2010
PEORIA H.S. – You've heard this sports cliché more than once: "Make the (State) Playoffs and anything can happen." Yeah, right. Like a #14 seed beating a #3 seed? Yep, check out the line score below for this wild-and-wooly game that sends the LadyBirds down to Tucson for a Quarterfinals match-up against Canyon del Oro's #6-ranked Lady Dorados, Tuesday afternoon, May 11.
CSHS 3 4 2 3 3 3 3 21
PEORIA 10 0 3 4 0 0 0 17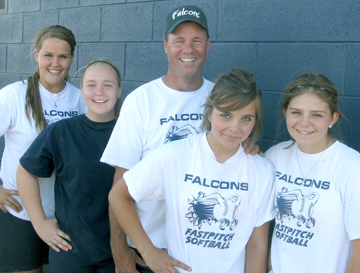 The HomeLadies didn't even need a slingshot. They just banged out 21 hits, sandwiched around nine walks (thanks to a strike zone Head Coach Danica Gianni described as "about the size of a postage stamp!"). At least "Blue" called 'em both ways, awarding ten free passes to the home team. Rightfielder Megan Scarpulla (5-for-5), shortstop Gracie Goulder (4-for-4 and a steal of home) and first baseman Lauren Clepper (4-for-6) led the Lady Falcons' attack.

As shown in the line score, the LadyBirds just kept pluggin' away, finally overhauling the Lady Panthers in the top of the 6th. After Scarpulla put away two straight flys to right, the game ended with Goulder making one of her trademark stops deep in the hole and firing a strike to Clepper for the final out.
Can the plucky Lady Falcons do it again? Remember, "Once you make the Playoffs, anything can happen." The Front-Page Sidebar will tell you if it did.