J. Cole silences 'Birds; Sahuaro wins, 4-1
By Pete Mohr | May 12, 2010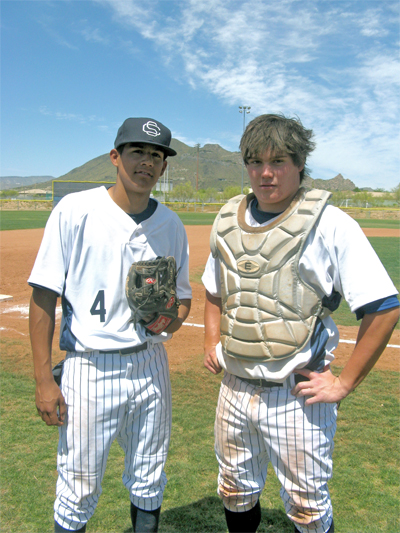 FALCON FIELD – The baseball gods did not smile on the Falcons last week. First, near the end of Wednesday's practice, starting catcher and reliable hitter Connor Sabanosh suffered a freakish, potentially-serious injury that knocked him out of the Playoffs. Second, third baseman and often-designated hitter Brent Nurre's sore back was not improving. Third, Head Coach Mike Baker was concerned about his team's layoff since their wild 15-13 win at Apache Junction, April 29.
Fourth, on Friday, the Falcs, tied with Sunnyslope at #6 in A.I.A. Power Points, lost the tie-breaker, falling to the #7 seeding. Hey, not a big deal, right? W-r-o-n-g! Because seeded at #7, the Falcons, hosting #10 (Tucson) Sahuaro, were guaranteed to face the Cougars' ace, senior Jake Cole, all 6'4", 235 lbs. of the big right- hander. Cole was no stranger to the 'Birds, having stiffed them on three hits, as Sahuaro beat the Falcons, 7-1, in late February's "Cowboy Classic" (Tucson).
"Excuses," you say? Absolutely not! Not when Cole silenced Falcon bats on a measly two hits. Bottom of the 3rd, Cougars leading, 2-0: Cameron Morton legged out an infield single, followed by Co-Captain Charlie Dominick's perfect bunt for the Falc's second – and last – hit of the game. That's when Cole showed the scouts in attendance (Mariners, Braves, Yankees, D-Backs) what they'd come to see (one of them reportedly clocked Cole's fastball consistently in the 90s!): he whiffed Logan Davis and Joey Ford, then retired Co-Captain Jaron Long (who pitched well enough to win) on a routine fly to right.
Still four innings to play; but you could sense that "The Fat Lady" was already tuning up to sing. Cole, committed to the University of North Carolina, would retire the next seven Falcons before Ford walked, coming around to score the only Falcon run on his stolen base and the Cougar rightfielder's heave of the errant throw over the utility building to the left of the Falcon dugout! Cole's line: one run, two hits, eight strikeouts, two walks. Can you spell "d-o-m-i-n-a-t-i-n-g?"
The game came too close to not being played at Falcon Field. Arriving minutes after 8 a.m. to festoon the bleachers with bunting and balloons, "Team Mom" Jennifer Nurre was aghast to find the entire left side of the field and the area behind home plate in standing water, with sprinklers going full tilt! Steve Scarpula and Dan Larson collaborated on the emergency shut-down of the sprinklers; then maintenance man Hector Lopez, CSHS Facilities crew, Falcon Mens Club, Baseball dads and a host of unnamed volunteers joined forces, managing the near-miracle of getting the field in playable condition. Sonoran News joins CSHS Principal SteveBebee, Assistant Principal Rick Swearingen and Coach Baker in thanking all hands for their incredible effort.
Appreciation also to Head Baseball Coach Guy Gianni (Notre Dame) and Head Baseball Coach Ron Dyer (Saguaro), who generously volunteered the availability of their respective fields in the event that Falcon Field would be deemed unplayable by umpires Jim Moore and Rich Villarreal. After a terrific rendition of the National Anthem by the CSHS trio of Hannah Neville, younger sister Maya Neville, and Amy Almond, Jaron Long threw his first pitch at Noon. A middle-of-the-night malfunctioning of the sprinkler system? A senseless, mean-spirited prank? Make your own "call."
Postgame, for the 2010 Baseball Falcons, their solid 13-6 season ended with Coach Baker appropriately stepping in to lead the traditional "Falcons on three: One-two-three, Falcons!" cheer. Thanks to "Coach Mike", Assistant Coaches Theron Brockish and George Lyle, and the 'Birds for some great baseball memories!