Restaurants targeted in rash of recent burglaries
By Linda Bentley | May 5, 2010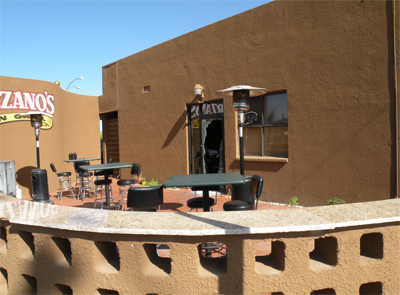 CAVE CREEK – Marzano's restaurant in Cave Creek (pictured) was the latest target in a rash of burglaries plaguing Cave Creek and Carefree. The perpetrator(s) used a brick or block to shatter the patio door for access. According to Maricopa County Sheriff's Office Detective Travis Pierce, MCSO has strong leads on three of four restaurant burglaries carried out over the past few weeks, which also included Barro's Pizza, Cody's Steak House and Carefree Station.

In light of the recent burglaries, Pierce spoke during Monday night's council meeting.

Pierce said business owners need to look around their premises and see if there is a lack of lighting, bushes or shrubs where people can hide around their business and recommended installing a good security system that's hooked up to all the windows and doors.

He also said surveillance cameras were not only an invaluable asset to law enforcement but a great deterrent.

Pierce advised business owners not to leave cash in their register drawers over night and if they invest in a safe, it should be the kind that is bolted to the floor and heavy enough that it can't be easily removed.

The Electric Eel at Tuscany Village in Phoenix at the corner of Cave Creek Road and Desert Willow Parkway was also recently burglarized.

When asked if any of these burglaries were connected, Pierce said he could not disclose any additional information as this is an ongoing investigation.