Tennis guys to tough Semifinals
By Pete Mohr | May 5, 2010
THE BOULDERS – On May 4, Coach Bob Dice's Netmen recorded the tennis equivalent of a "mercy win" in their State Quarterfinals (team competition) match against (Tucson) Canyon del Oro, taking the first five singles matches to close out the visiting Dorados, 5-0.

Next up: Friday's "David vs. Goliath" Semifinals match against "four-peat" State Champions (Tucson) Catalina Foothills (a/k/a "The Other Falcons") at Paseo Racquet Center (Glendale).
"We know what we're going to be up against," Coach Dice realistically acknowledged to Sonoran News, "but our guys will give it their best shot."

Senior singles player Kevin Siebs gave it his "best shot" at State (individual competition), placing 3rd after losing to eventual champion Cameron Tehrani (Saguaro). Regardless of the Catalina Foothills outcome, congratulations to the undefeated Desert Sky Region Champions, now 16-0.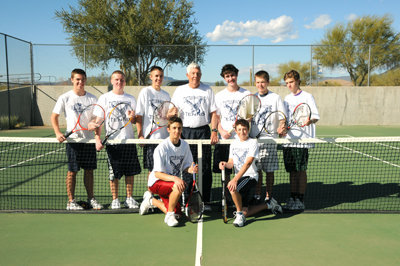 (Foreground, l-r) Julian Ophals (SR), Tyler Brock (JR); (back, l-r) Connor Weber (SR), Nick Looney (JR), Pat Ward (SR), Coach Dice, Liam Railson (JR), Seibs, Grifffin Dales (SO). Not available for photo: Jacob Hetterig (SO), Josh Hetterig (FR).
Courtesy photo