Lady Falcons head to State!
By Pete Mohr | May 5, 2010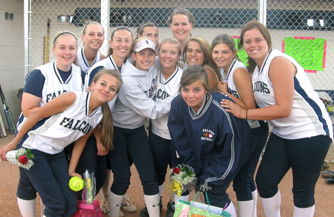 On the cold and windy afternoon of Senior Day, Thursday, April 29 in the top of the 7th, the tying runs on 3rd and 2nd, two outs, 3-2 count, Lady Falcons' pitching ace Camille McIver painted the outside corner, freezing the A.J. batter for the game-winning strikeout! The dramatic 5-3 win leveled the Lady Falcons at 9-9 for the regular season, good enough to send the #12-ranked LadyBirds to State for the first time since 2006.

For Head Coach Danica Gianni, it will be her first trip to the Playoffs, a wedding obligation in Chicago necessitating that (then) Assistant Coach Ryan Pletnick and Softball parent Bill Ferguson stand in for her. (CSHS lost in the 1st Round to eventual State Champion Arcadia.)
"I'm excited!" Coach Gianni understandably enthused to Sonoran News. "I'm excited for our players! They've matured and worked so hard. They really deserve it."

With regular season games still being played by Playoffs-affecting teams this week, it's unlikely that the Lady Falcons' seeding will be determined before this issue of Sonoran News goes on-line. Coach Gianni: "Ranked #12, I don't think we'll get bumped (out of the 16 teams eligible for the Playoffs)." If the LadyBirds stay at #12, they will play their 1st Round game at the home field of the #5 seed, Saturday, May 8, 11 a.m. first pitch. Ace hurler Camille McIver, a junior, will start.

Sonoran News especially congratulates Coach Gianni, who never gave up on her team – or the softball program she's worked tirelessly to develop.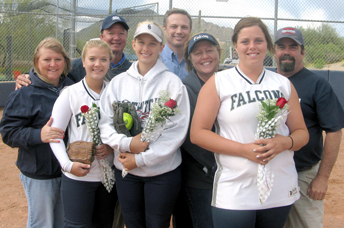 A Senior Day trio: (l-r) Courtney Snyder (Denise and Marc Snyder), Lauren Clepper (Eric Clepper), Candace Irons (Deanna and Jim Irons). Congratulations, Gals and proud parents, on your Lady Falcons Softball careers!

Photos by Pete Mohr