Desert Foothills Sheriff's Posse selects Posse Man of the Year
April 28, 2010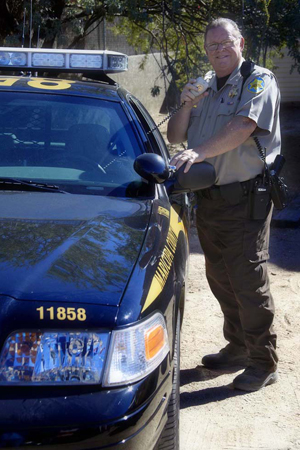 Desert Foothills Sheriff's (DFSP) Posse has selected Bud Bowlin as 2009 DFSP Posse Man of the Year by his fellow members. DFSP is a non-profit organization serving the citizens of Carefree and Cave Creek and northern Maricopa County by providing a variety of duties that includes assisting MCSO deputies; event security, traffic control and performing vacation watch services. DFSP Members receive significant training in all aspects of law enforcement from MCSO including weapons training, officer safety, prisoner transport and community policing.

As an active member of Desert Foothills Sheriff's Posse, Bowlin has worked with the Maricopa County Sheriff's Human Smuggling Unit, Animal Crimes Unit and as Carefree Municipal Court Bailiff. He is an alumnus and former Director of Scottsdale Police Department's Citizen Police Academy and has assisted with the East Valley DUI Task Force for a number of years. Bud is the Field Training Officer for DFSP and assists with Car Qualifications for new members.

Bowlin states that his "proudest voluntary accomplishment is serving in the Maricopa County Sheriff's Posse and working with the patrol deputies of District 4 in the Cave Creek and Carefree communities."

Bud is married with four children and resides in north Scottsdale.

Following college graduation in 1967, Bud was commissioned by the US Army as Second Lieutenant and served on active duty and in the Army Reserves until 1974 when he resigned as a Captain. A Vietnam era veteran, Bowlin served at the US Army's Artillery School at Fort Sill, OK and the US Army Air Defense School at Fort Bliss, TX among other duty assignments. He is a member of the Arizona Chapter of the American Legion.

Following military service Bud earned a Master's Degree from the University of Texas. After starting a sales career with RCA and Datotek Inc. (a DOD cryptographic equipment manufacturer) in Dallas Bud switched sales careers to focus on services rather than electronics.

In1978 he began his insurance career with Rogers Benefits Group where Bowlin managed a large multi-state sales region. After retirement in 2000, he formed Arizona Benefits Company which serves corporate and individual clients in the Phoenix area. During his career, Bud was an active member of several national insurance trade organizations serving as a National Trustee, State President, and chairing several legislative committees.
He is also active in youth baseball programs and served on the Board of Desert Foothills Little League for several years.

Desert Foothills Sheriff's Posse is a non profit 501 c3 organization that exists mainly upon contributions from the communities they serve.