Baseball's last three to determine playoffs seed
By Pete Mohr | April 28, 2010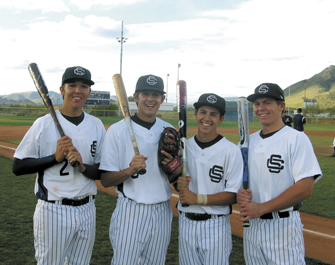 CSHS – And then there were three ... baseball games, that is: Wednesday afternoon's showdown at #7 Sunrise Mountain (11-3), sandwiched in between Tuesday's "Senior Day" against visiting #24 Apache Junction (3-12) and the regular season's finale at A.J. on Thursday, April 29. All games are 4 p.m. starts.

If the Falcons "win out" this week, they could possibly move up to as high as the #5 ranking; but Head Coach Mike Baker isn't greedy: "What we need to do is make sure we finish in the 'Top Eight,' so that we'll host our 1st Round State game." That would come Saturday, May 8, 11 a.m. first pitch. Quarterfinals are Wednesday, May 12; Semis, Friday, May 14; and the Championship game on Saturday, May 15. Sites and starting times to be determined.

"Pitching and defense are carrying us," Coach Baker evaluated to Sonoran News. "Charlie (2nd baseman Co-Captain Dominick) and Logan (senior shortstop Davis) have really solidified our infield. That Charlie, he's a baseball 'rat'!" A gotten-healthy Brent Nurre has settled in at 3rd. A.J. Zygutis and Max Patterson are a tandem at 1st, with Co-Captain Jaron Long playing solidly there when he's not the "Ace-on-the-Hill." Junior catcher Connor Sabanosh is now set at his preferred position. His strong (and accurate) arm discourages would-be base stealers; and his aggressiveness with opponents on base gives the Falcs another defensive weapon.

Against Queen Creek, Thursday, April 22, Long had another strong outing, allowing eight hits and striking out eight, as the Falcons (at home) downed the Bulldogs, 6-3, thereby "sweeping" the three regular season meetings between the two teams. In any team sport, beating an opponent three times in one season is a tough assignment.

This week, Falcons will be after two more A.J. scalps; but the first one, at home, March 25, required a three-run rally in the bottom of the 7th to pull out a 7-6 win. Count on the Prospectors to play even tougher at home on the 29th.

Junior Ryan Nemger will start Tuesday's game. Long gets the Sunrise Mountain challenge. Junior Joey Ford will take the mound at A.J.