'Birds, 'Dogs split: Baseball wins, 5-3; Q.C., 9 - Ladybirds, 5
By Pete Mohr | April 21, 2010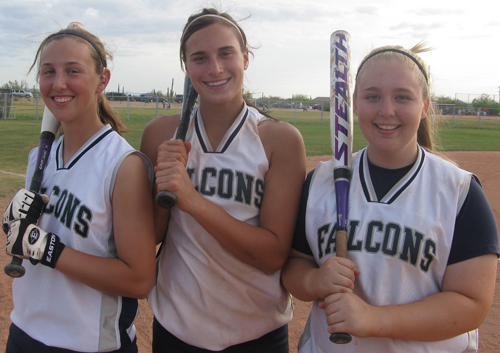 LADIES RALLY TOO LATE: Elyssa Hartsock (l) homered in the 5th and scored in the 7th on Gracie Goulder's (c) triple; Kristin Hillier (r) was the LadyBirds' hitting star, going 4-for-4, including a home run in the 7th that produced a 5th run for the home team's "honor." Lady Falcons will make the long haul to 'Creek, Thursday, April 22. Photo by Pete Mohr

QUEEN CREEK – Baseball Falcons kept their "mo" goin' at Queen Creek on April 20, leading the Bulldogs wire-to-wire – winning, 5-3.

Highlights: Falcs broke on top 3-0 in the 3rd, Co-Captain Jaron Long doubling in two runs. Co-Captain Charlie Dominick's RBI single in the 5th plated the Falcs' "cushion" fourth run. Bottom of the 6th, Bulldogs on 1st and 3rd, one out: on an attempted double steal, catcher Connor Sabanosh guns to 3rd baseman Brent Nurre to snuff the lead runner – and the would-be rally! Starter Nick Francis pitched four innings to get the win. Sean O'Grady finished up with three strong innings in relief.
Lady Falcons, at home, didn't fare as well. Trailing 1-5, Elyssa Hartsock's homer to left in the 5th got the Ladies one run closer before the Lady Bulldogs tacked on four insurance runs with two out in the 7th. The LadyBirds scored three times in their last "ups": Kristin Hillier's home run to left, her fourth hit in a perfect day at the plate, was the highlight blow.
Postgame, a disappointed Head Coach Danica Gianni to
Sonoran News
: "We can't wait until the 7th to start hitting. Got to get something going in the early innings."
Coupled with the 0-3 score, at home, to Saguaro, April 15, the loss to Queen Creek dropped CSHS to #13 in A.I.A. Power Point Rankings.