Flying the flag on Senior Day!
By Pete Mohr | April 21, 2010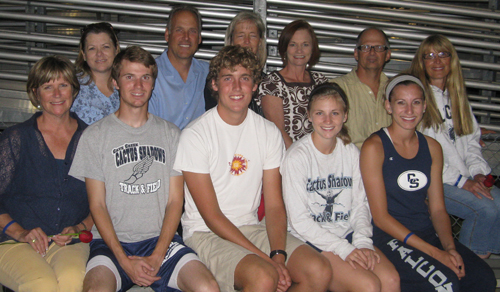 Head Coach Geoff Johnson nominated four seniors (with their parent(s) and escort) to photographically represent their compatriots at Senior Day, Wednesday, April 14, at Falcon Stadium, where both Boys and Girls handily defeated Seton Catholic and Williams Field in the last home meet of the season.

(Front, l-r) Mom Laura Byers, son Geoffrey Byers, Keith Omundson, Merrit Thompson, Katrina Poulos; (back, l-r) Kelli White (Geoff's sister), Peter and Debbie Omundson, Cindy and Bob Thompson, Brenda Poulos.