Dressed to the nines, Cheer's Seniors, fine!
By Pete Mohr | April 21, 2010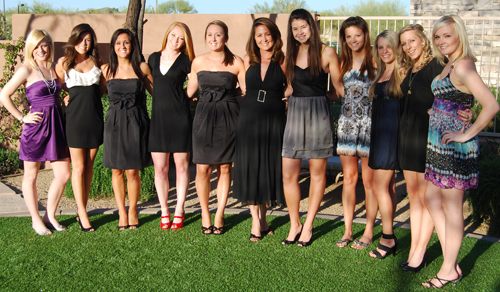 Before an evening of well-deserved accolades and awards capped off yet another championship season for Cactus Shadows Cheer, the squad's ten seniors were photographed before the Friday, April 9, event at Northridge Community Church.

(L-r) Ashley Shultz, Brianna Ehland (Captain), Taylor Varner, Kacey Lowry (Captain), Jame Varner (Captain), Coach Rika Cuff, Kendall Warren (Captain), Bailey Bowers (Captain), Giovanna Grace, Jessica Nicol, Amber Howell (Captain). Congratulations, seniors! You'll be missed. But will you miss Coach Cuff's rigorous post-dawn practices?!

At the Banquet, Coach Cuff announced the following special recognitions:
Varsity "Most Spirited": Cierra Stewart, Breana Baker
Varsity "Most Improved": Brianna VanBibber, Brittney Decker
Varsity "Coach's Award": Shae Lowry, Brittany Nagy, Rheannen Archuleta, Tayler McClellan

Over March 27-30, Cheer ended their 2009-2010 competitive season with solid 2nd place finishes in all divisions (Super Varsity Show, All-Girl Stunt, JV Show) at United Spirit Association's High School Cheerleading Nationals, Anaheim, Calif. "Well done, Ladies!" And the same to Coach Cuff, Pom Coach Cindy Knuteson and JV Coach Allie Brenner.