Baseball gets off the deck to upset top-ranked 'Cats!
By Pete Mohr | April 21, 2010
A HAPPY FLOCK! Baseball 'Birds were photographed by Sonoran News at Saguaro, Thurs., April 15, after their 2-0 "miracle" upset of the #1-ranked Sabercats.
Photo by Pete Mohr

Jaron Long tosses complete game 5-hitter; Charlie Dominick stars both ways, as co-captains lead Falcons to 2-0 revenge at Saguaro
SCOTTSDALE – "Do you bee-leeve in miracles?!" Al Michaels' famous call of USA Hockey's 1980 Olympic championship. Yes, Al, I do; but I sure as heck wasn't expecting one when the Baseball Falcons bussed down to Saguaro, Thursday, April 15, to take on the #1-ranked, 18-1 Sabercats who'd embarrassed the 'Birds, 15-3, at Falcon Field only two days earlier. The final at 'Catville? Cactus Shadows, 2 - Saguaro, 0. If that ain't a miracle, it's doggone-sure "close enough for Government work!"

The loss was Saguaro's first in Region play and snapped the Sabercats' 17-game regular season winning streak. For the 'Birds, going forward, the dramatic victory was like "Popeye's" can of spinach!

Postgame, Head Coach Mike Baker to Sonoran News: "A huge win for us: no question about that; but you know, we had a really good practice yesterday (Wednesday). I told our guys to forget about what happened Tuesday. Over, done with. Let's go down to Saguaro and have fun playing the kind of baseball I know you can. That's exactly what they did: outstanding pitching by Jaron (Long); terrific defensive plays [Logan (Davis) starting that double play in the 6th, Ryan (Nemger) and Charlie (Dominick) making critical catches in the 7th; and timely hits (Charlie and Logan) in the 5th that got us the only two runs we needed. After winning against the #1-ranked team in the State, these kids should be confident they can beat anybody!" Right-on, Coach!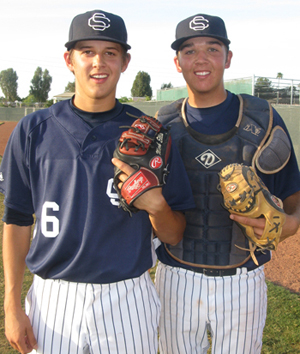 Five regular season games left. Plenty of time to solidify a starting line-up for the State Playoffs which begin Saturday, May 8, and to identify a reliable third starting pitcher. Realistically looking ahead to State, Long will start the 1st Round game, with Ryan Nemger the probable choice for the Quarterfinals, Wednesday, May 12. This writer won't be surprised if, for Friday's Semifinals, Coach Baker goes to a "starter by committee:" that is, Joey Ford, Sean O'Grady and Nick Francis each hurling two innings, with Long coming in as the 7th inning closer. Then, on Saturday, the 15th, Long pitches the Falcons to the State Championship! Ronnie Milsap had a long-ago hit, "Stranger Things Have Happened."

Remember, you read it here first. Back to Saguaro.

Bottom of the 4th: I arrive from my "day job" in time to see Dominick corral a tricky bloop into short right, then alertly double up the Sabercat runner at first. Between innings, I asked Baseball parent Jay Sabanosh, "What's the score?" "Zero-zero," he quietly answered. I'm thinking to myself, "After Tuesday's disaster, this game is already a moral victory for the Falcons: at Saguaro? With Sabercat ace Kurt Jahnke pitching? Scoreless after four?" But the best was about to unfold.

Leading off the 5th, Ryan Nemger grounds out. Nick Francis lines a single to left, then takes 2nd on a wild pitch. A.J. Zygutis walks. Dominick lashes a hit down the rightfield line, plating Francis, but is out at 2nd trying to strength his single into a double. Zygutis advances to 3rd.
On a full count, Davis strokes a hard grounder up the middle, scoring Zygutis. Joey Ford is called out on strikes for the third out. Falcons have broken out on top, 2-0.

Long has an easy 1-2-3 5th, recording his first two strikeouts. 'Birds fail to score in their 6th. Josh Gibbons, who'd hit a 2nd inning three-run homer in Tuesday's 15-3 rout, starts the Sabercat 6th with a single to right. To the plate, Brandon Demorest, whose monster grand slam at Falcon Field may well have made it to 56th Street! Demorest grounds sharply toward Davis, who makes a highlights film backhanded stop to start a 6-4-3 double play. Bases empty; so no scoring damage done when the Cats' big bopper, designated hitter Chris Akmon, belts a ground-rule double to left center. On a 2-2 count, Long strikes out Reed Austin for his third "K." Falcons hangin' in front, still 2-0.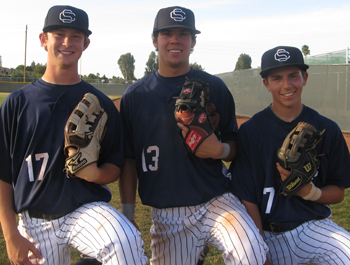 Leading off the 7th, Francis is robbed by leftfielder Austin Anderson's driving slide. If Anderson misses, the speedy Francis might well have raced to an inside-the-park home run. Reliever Travis Steinhauser, on for Jahnke in the 6th, whiffs the next two Falcons. On to the dramatic Sabercat 7th.

Alec Daugenbaugh crushes Long's first pitch fastball to deep left center; but Nemger, alert to Daugenbaugh's power, makes the Defensive Play of the Game, racing to his left to snare the drive at the fence! One out. Josh Chapman lasers a fastball that could've gone for at least a double, had not Dominick made a leaping stab! Two gone; and I'm beginning to "hear" Al: baseball field instead of hockey rink.

Saguaro speedster Kyle Young is the Sabercats' last hope. Would he bunt to get on, thereby bringing the potential tying run to the plate? Nope. Long gets two quick swinging strikes before Young fouls off his third pitch. Then he takes a low fastball for ball one. Catcher Connor Sabanosh signs for a curve. Long throws a back-door beauty that freezes Young for the game-ending strike three called! This "homer" can't resist: what a terrific high school baseball game!

The Falcs last two home games are back-to-back: Thursday, April 22, 'Creek, with Long on the mound; and Tuesday, April 27, Senior Day, vs. Apache Junction. Then the 'Birds travel to Sunrise Mountain for an April 28 make-up of a March 9 storm-out, before ending their regular season the next afternoon at A.J.

As of Wednesday morning, April 22, Falcons ranked #9 in A.I.A. Power Points, needing to stay in the "Top 8" in order to host their State 1st Round game. C'mon, HomeBirds, win out!