How big is your love?
April 21, 2010
Silverado Senior Living Community hosts Adopt-a-Pet Fair May 1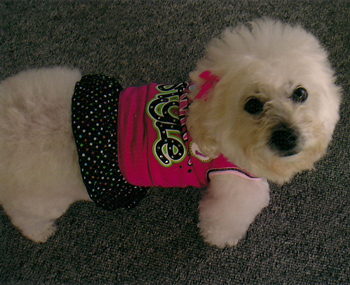 SCOTTSDALE – What's your slobber tolerance? There are many factors to consider when choosing a four-legged addition to the family. To really get to know the personality of a certain breed of dog, or the needs of a more exotic pet, how about a test drive?
On Saturday, May 1, Silverado Senior Living – Scottsdale at 9410 E. Thunderbird Road is hosting a free Adopt-a-Pet Fair to meet and get to know the many breeds of dogs and cats, and yes, even rats, that are available for adoption in the Valley.
Different than a pet store or adoption site, the Silverado Adopt-a-Pet Fair is a day of learning about the various breeds available, by meeting with the breed experts to choose the ideal pet. Rescue clubs and organizations will have many animals on hand as their official breed ambassadors for hugs and kisses. Boston Terriers, Golden Retrievers, St. Bernard, Greyhounds, Beagles, and Aussies are among the dog breeds that will be represented at the Fair – many with one of the animals to get to know. Once a pet type is identified, the rescue organization will make arrangements for an in-home visit with one of the pets available. Questions about exercise, getting along with other breeds, and preferences will be answered.
The event on Saturday, May 1 from 10 a.m. – 2 p.m. is open to the public and will include a free barbecue lunch, just for stopping by and taking the time to consider adoption. "It will be a fun day getting to know all the breeds available for adoption, without any of the stress of taking the pet home that day", said Amber McCord, Administrator of Silverado Senior Living - Scottsdale. McCord recommends bringing children to introduce them to the idea of getting a pet, being part of the decision, and exploring the many personality traits of animals.
The Silverado Senior Living Community in Scottsdale understands the unspoken therapy a pet creates. The memory care company requires a ratio of pets and residents at all of their communities in the western United States. Residents are invited and even encouraged to bring their along their faithful companion to join the menagerie of birds, cats and dogs (even a kangaroo in one community).
Visitors to the Adopt-a-Pet Fair will be able to tour the community, meet the residents and see some of the pets at the Community. Silverado Senior Living – Scottsdale is located at 9410 E. Thunderbird Road, Scottsdale AZ 85260 (between Raintree and Redfield).
Participating groups include the Arizona Boston Terrier Rescue, Arizona Golden Rescue, AZ Saint Bernard Rescue, Animals Benefit Club, Humane Society of the United States, Small Paws Rescue, AZ Happy Trails, Beagles of Arizona Rescue Club, Castaway Treasures, Amazing Aussies Lethal White Rescue of Arizona, Litter League, Nine Lives Foundation, Any Rat Rescue and more.
For more information, call Silverado Senior Living – Scottsdale at 480-614-9100.
Silverado's communities offer assisted living care for those with Alzheimer's disease and other forms of memory impairment. Silverado also provides geriatric care management, home care and hospice care throughout Southern California. Silverado Senior Living is based in San Juan Capistrano, California and operates in 33 locations across California, Texas, Utah, and Arizona. Visit www.silveradosenior.com for more information.