Army doctor faces court-martial for refusing orders pending proof of Obama's eligibility
By Linda Bentley | April 14, 2010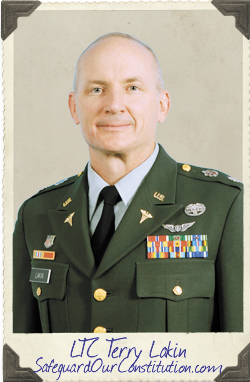 WASHINGTON – LTC Terrance "Terry" Lakin, the highly decorated chief of primary care and flight surgeon for the Pentagon's DiLorenzo TRICARE Health Clinic, and lead flight surgeon charged with caring for Army Chief of Staff General Casey's pilots and air crew, risked arrest and court-martial by refusing a direct order from his medical brigade commander for deployment to Afghanistan.
On April 8, Lakin's explanation was posted on AmericanThinker.com, which describes itself as "a daily internet publication devoted to the thoughtful exploration of issues of importance to Americans."
Lakin stated, "Last week, I entered Walter Reed Army Hospital to notify the Department of Defense (DoD) that I would refuse to obey any orders from my commanding officers – including President Obama – until the president produces his original birth certificate. After nearly 18 years of wearing the military uniform of the country I have proudly served."
Military officers take an oath to support and defend the U.S. Constitution against all enemies, foreign and domestic.
Lakin stated, "Upholding the law is an essential part of our role as citizens; in the military, we are the ultimate protectors of that law. The Constitution is our social compact, which safeguards all of us and ensures the 'equal rights' that we are entitled to as American citizens."
In a video recording posted on SafeguardOurConstitution.org, Lakin stated he feels he has "no choice but the distasteful one of inviting my own court-martial."
Lakin says his deployment orders for a second tour of Afghanistan included a requirement to bring copies of his birth certificate.
However, since the fall of 2008, Lakin says he's been troubled by reports that the president's original birth certificate, along with other documents, that would "quickly end questions surrounding his place of birth and 'natural born' status," remain concealed from public view.
For over a year, Lakin has attempted through his chain of command to obtain answers to questions surrounding the president's eligibility, only to be told he has no standing to make such an inquiry, while no one at the DoD could answer the question.
Lakin concluded the burden of proof rests with the White House and with Obama himself, stating "… these records are his, and he has chosen to conceal them at considerable legal expense."
Lakin found it remarkable that there is no enforcement mechanism in place for the Constitution's Article II, Section I requirement that the president be a "natural born citizen," leaving voters to rely on "an honor system and a free press to vet candidates …"
In a March 30, 2010 letter to Obama, Lakin wrote, "Please assure the American people that you are indeed constitutionally eligible to serve as Commander in Chief and thereby may lawfully direct service members into harm's way. I will be proud to deploy to Afghanistan to further serve my country and fellow soldiers, but I shall only do so with the knowledge that this important provision of our Constitution is respected and obeyed.
"Unless this is established (by this sufficient proof that should be easily within your power to provide) that you are constitutionally eligible to serve as President and my Commander in Chief, I, and all other military officers may be following illegal orders. Therefore, sir, until an original birth certificate is brought forward that validates your eligibility and puts to rest the other reasonable questions surrounding your unproven eligibility, I cannot in good conscience obey ANY military orders."
Lakin said, "There is no legitimate privacy right to information necessary to prove that President Obama is legally eligible to serve as Commander in Chief."
On March 31, the Army issued an "event-oriented" developmental counseling report regarding Lakin's intentions to refuse to follow deployment orders.
Under "Key Points of Discussion," The Army counselor wrote, "This counseling is to inform you that your deployment orders are presumed to be valid and lawful orders issued by competent military authority … Failure to follow your reassignment and/or deployment orders may result in adverse action including court martial."
He also stated if Lakin is found guilty at court-martial, he could be "sentenced to dismissal from the service, which is akin to a dishonorable discharge; forfeiture of all pay and allowances; and confinement for a period of months or years in military prison."
In conclusion, he encouraged Lakin to "seek advice from an attorney with the U.S. Army Trial Defense Service before embarking on a course of conduct which you may quickly regret."
The American Patriot Foundation (APF), a 501(c)(3) nonprofit national foundation founded in 2003 for the primary purpose of educating and advocating the importance of patriotism, is seeking tax-deductible donations for Lakin's legal defense fund.
Few military officers appear willing to risk their careers to uphold their oaths and the few that do have been labeled "Birthers."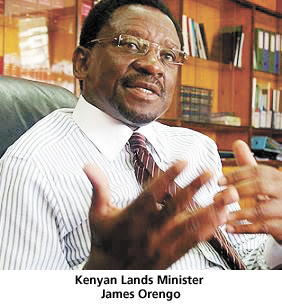 However, on page 31 of the March 25 Hansard (transcript) of the Kenyan parliamentary session, during debate over a draft constitution, Lands Minister James Orengo stated, "Those who fear devolution are living in the past. They are being guided by their ethnic consideration and objectives … If America was living in a situation where they feared ethnicity and did not see itself as a multiparty state or nation, how could a young man born here in Kenya, who is not even a native American, become the President of America? It is because they did away with exclusion …"
That would answer why Obama has spent upwards of $1.7 million to prevent his records from being released and the truth revealed.
On April 12, Lakin met with Col. Gordon R. Roberts, his brigade commander, who read Lakin his Miranda rights because he would soon be charged with serious crimes, specifically, missing movement and conduct unbecoming an officer.
Lakin's Pentagon Access Pass has since been revoked and his laptop computer was seized.
Due to the seriousness of the impending charges against Lakin, APF renewed its plea for donations to his legal defense fund. Details are available at
www.SafeguardOurConstitution.org
.