Studio C4 showcases new April Art Exhibit
By Dawn Schiano Kirchner | April 14, 2010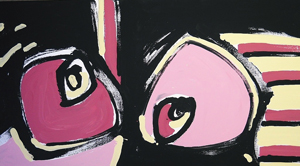 CAVE CREEK – New Arizona resident and artist, Dawn Schiano makes her debut at Studio C4 showcasing her contemporary works throughout the month of April. Dawn's artwork primarily presents the juxtaposition of images representing the dualities that exist in nature: masculine/feminine, spiritual/material, life/death, organic/inorganic. Dawn says, "In each piece, as in life, sometimes the dichotomy is harmonious– balanced and flowing freely and yet, other times, opposing– conflicting or balancing precariously. Shapes seem to rise and fall comfortably in some pieces, and are constricted or competing in others." The artist utilizes both lines and colors to project different messages; for example, straight or hard edged lines symbolize the material, an oval or circular image denotes something spiritual, feminine, and eternal; and colors such as black symbolize death, while green and pink represent new life. Dawn remarks, "My hope is that these images subliminally stimulate each viewer's innate connection to nature." The art exhibit will be on display at Studio C4 throughout the entire month of April.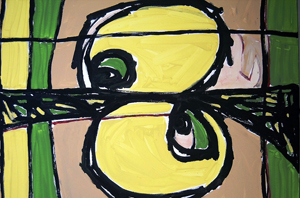 Dawn Schiano Kirchner is the curator and art instructor at the Anthem Art Gallery at the Caepe School. She has a Bachelors degree in English and Art from the State University of New York at Oswego, and Masters of Fine Art degree in Painting from Cranbrook Academy of Art in Michigan.

Studio C4 is located inside the popular Cave Creek Coffee Company at 6033 E. Cave Creek Road in Cave Creek. For more information visit the website at www.cavecreekcoffee.com or call 480.488.0603.