Minuteman Civil Defense Corps cancels muster, announces dissolution
By Linda Bentley | March 31, 2010
Rancher's murder outrages community and beyond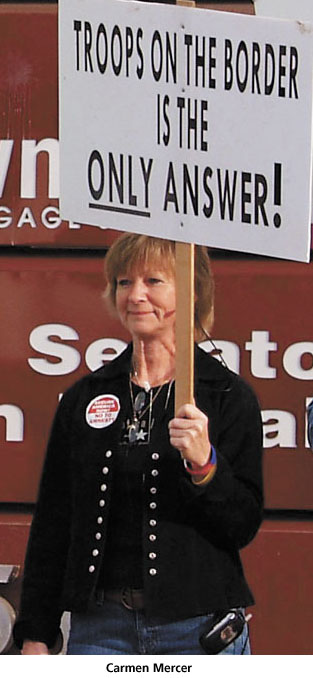 COCHISE COUNTY, Ariz. – After Minuteman Civil Defense Corps (MCDC) President Carmen Mercer sent out her March 15 "High Alert" e-mail with a renewed call to the border, only this time locked and loaded, for a muster to begin March 26 and continuing until Congress deploys the U.S. military to our borders to defend the United States of America, it raised a few eyebrows.

There were others who said, "It's about time."

She wrote, "For eight long years we Minutemen played nice; yet for the past eight years we firmly expressed our opinions and desires for the border to be secured. This muster will be completely different. President Barack Obama and John McCain have left us no choice. This March we return to the border locked, loaded and ready to stop each and every individual we encounter along the frontier that is now more dangerous than the frontier of Afghanistan."

However, on March 23, Mercer sent out another e-mail with the subject line, "Urgent alert to all Minutemen."

She opened by stating with the passage of Obamacare, "completely against the will of the people" the elites in Washington have managed to trample the Constitution."

She wrote, "Don't think the millions of people who, nationwide, marched against this criminal act, just as the Minutemen marched on the border and in cities across the country to bring awareness to a most serious issue," didn't make a difference.

Mercer said, "We know we had an effect and the credit goes to all our courageous and disciplined volunteers who have always behaved like Americans should."

Remarking how the mood of the country has changed with the passage of health care reform against the will of the people, Mercer said "indications that Obama will try to pass amnesty may be the straw that will break the spirit, or the straw that ignites frustration that we, as an organization, may not be able to manage or contain."

Mercer said the replies to her March 15 e-mail "were dramatic" and illustrated people are fed up, stating, "Thousands opened the e-mail, hundreds replied and are ready."
She stated the response was dramatic in two ways. While some were absolutely against the new Standard Operating Procedures, which allowed and encouraged bringing firearms for more than just personal protection, others were overwhelmingly supportive.

In fact, she said far more people responded than in a long time.

However, she said, "It was obvious that many had decided to return to the border who had tired of the sometimes futile watch and observe methods. It showed me that people are not willing to be silenced anymore. It also showed me that people will be less likely to follow the rules of engagement in a desperate attempt to stop the criminals who violate our borders every day.

"That is not what we want and we cannot take responsibility for this."

Although it was apparent people have "had it," Mercer said MCDC has a responsibility to protect its volunteers, the corporation and the land owners who have been so supportive of their efforts, even under great risk of liability if the Minutemen ever made a mistake.

She said MCDC did not wish to jeopardize all the positive years of activism it has shown over the last eight years.

"So, with this e-mail, I announce that as MCDC, we will no longer hold a border muster," wrote Mercer, adding, "We are dissolving the corporation."

On Saturday, March 26, Rob Krentz, 58, whose family has owned a 35,000-acre ranch in Cochise County, about 25 miles north of the Mexican border, for over 100 years, was found shot to death along with his dog.

Krentz was on his ATV checking water lines and fencing on the ranch when he was heard on the two-way radio telling his brother "Illegal alien."

When Krentz didn't return and family members were unable to reach him, a search ensued. A helicopter finally located Krentz, who was found on his ATV with the engine still running and the lights on.

Although the ranch is along a well-known drug and human smuggling corridor, Krentz was said to be a humanitarian that always provided assistance to illegal aliens who appeared to be in distress.

According to Cochise County Sheriff Larry Dever, Krentz was found about 1,000 feet from where he was believed to have been shot, citing there were indications Krentz was attempting to get away.

Investigators said there were no signs of a struggle or confrontation. And, while Krentz had a weapon with him, he didn't use it.

Evidence suggests it was a single gunman, most likely an illegal alien, whose footprints were tracked for 20 miles heading toward the U.S.-Mexico border.

Dever said his deputies have responded to a number of burglary, property damage and even a few home invasion calls in the area and expressed concerns that angry ranchers might take matters into their own hands.

Although Dever fully understands their anger and is angry as well, he said "the law is the law."

Inducted into the Arizona Farming-Ranching Hall of Fame in 2008, the family owned ranch specializes in purebred Hereford and Charolais cattle as well as cross-bred cattle. "The Krentz Ranch is well known for its extensive water line, which operates mainly by gravity flow. Through the family's continuous efforts to provide water to new areas they have created a 25,000 acre wildlife habitat in addition to providing water for their livestock."
Glenn Spencer of American Border Patrol said, "The Krentz Ranch is in a smuggling corridor that runs along Arizona Route 80. Roger Barnett's ranch is in the same corridor. Barnett has aided in the apprehension of more than 20,000 illegal aliens."

Spencer said, "I live on a ranch in Cochise County. My house is one-half mile from the border. Smugglers used to cross my property all the time, but stopped after a real fence was installed. While the National Guard may help somewhat, the real solution to the border problem would be to complete the 700-mile double-layered fence authorized by Congress in 2006.

"DHS should take its name seriously – the Department of Homeland Security. Rob Krentz certainly wasn't secure in his homeland."

On March 28, Tom Tancredo, the former U.S. Representative from Colorado, who was visiting in Cochise County at the time of Krentz's murder, said former Arizona Governor Janet Napolitano, now secretary of the Department of Homeland Security, told an audience at Arizona State University just three days ago that "the border is more secure than ever."
Tancredo said, "I challenge her — no I dare her — to come to this community and try to sell that lie."

The Arizona Cattle Growers' Association is offering a $15,000 reward for information leading to the arrest of Krentz's killer.