'Fiesta Days™' Rodeo and Parade set for April 7-11
March 31, 2010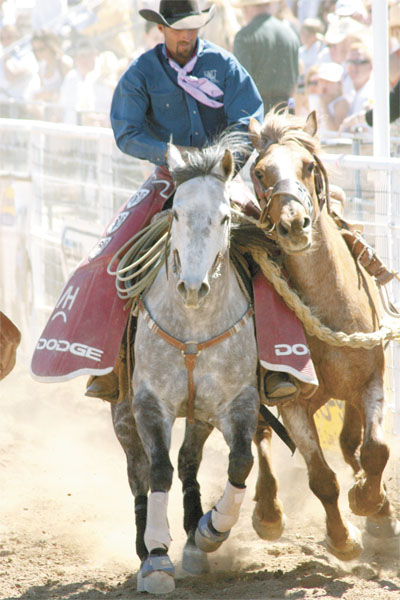 The Dodge Pick Up Man gathers bucking horses during the Fiesta Days Rodeo at Cave Creek Memorial Arena. This year's event takes place April 7-11, with the Parade through town set for Saturday morning.
Photo courtesy DFCA

CAVE CREEK – Mark your calendar to attend one of the Valley's biggest events, Fiesta Days™ Rodeo, set for Wednesday, April 7 through Sunday, April 11 in Cave Creek!

Presented by the Desert Foothills Community Association (DFCA), the 32nd annual event kicks off Wednesday, April 7 with a golf tournament at Rancho Manana Golf Resort. The fun continues throughout the weekend at Cave Creek Memorial Arena with the Miss Rodeo Arizona Horsemanship Competition, thrilling rodeos and barrel racing featuring top-ranking Professional Rodeo Cowboy Association (PRCA) and Women's Professional Rodeo Association (WPRA) contestants, Mutton Bustin' and other fun children's activities. This is also the first year the Rodeo will include Pro Tour FMX Motocross performances.

Admission to the arena and parking on Thursday and Friday are free, except for $1 donation during Mutton Bustin' on Friday night. On Saturday and Sunday, April 10 and 11, rodeo admission is $10 for adults; $5 for kids ages 5-14; and free for children 4 and under. Parking on Saturday and Sunday is $3 or $1 with three non-perishable food donations.

The Stockman's Club is the VIP Club at the Fiesta Days Rodeo. The Red Carpet Club is the VIP Club during the Wayne Wilson Children's Charity Rodeo and Carnival. Perks of the VIP Clubs include free parking, excellent food prepared by a catering staff, snacks and complimentary beverages at a host bar, as well as surprise celebrity guest appearances. The VIP Clubs have limited availability and reservations must be purchased by April 3. This year is the first time a per performance entry fee is being offered. For more information call Beth Cornell at 623-293-8445 or e-mail changingrivers@msn.com.

Harold's Cave Creek Corral hosts the Official Fiesta Days™ Rodeo Dances on Friday, April 9 from 9 p.m. to 1:30 a.m. with live music by Mogollon and all day Saturday, April 10 with music by Rondavous, Cave Creek Cowboy Crew, Mogollon and Young Country. Harold's Trails End Party on Sunday, April 11 features live music by W. Alan Hall from 6 to 10 p.m. Admission to the Rodeo Dances on Friday night is $3 and $5 on Saturday night with all proceeds benefiting DFCA.

This year's festive parade on Saturday, April 10 through Cave Creek promises to be one of the liveliest with 100 entries expected. The not-to-be-missed parade, which celebrates Cave Creek's Western heritage, takes place from 9 to 11 a.m. DFCA is excited to announce that "Colorado, the Flying Horse," will make his first public appearance since his dramatic rescue in mid-March from the Gila River. Colorado will parade through town with Arizona Equine Rescue Organization, which played a critical role in saving his life.

Admission to the Fiesta Days™ Parade is free, and several merchants, such as Harold's, will provide outside seating. Harold's is also hosting a special $9.99 "All You Can Eat" Breakfast Buffet on Saturday morning. To reserve a seat at Harold's, call 480-488-1906.

For more information, call 480-488-4043 or visit www.CaveCreekRodeo.com.