Falcs rally past A.J.; Notre Dame ends euphoria
By Pete Mohr | March 31, 2010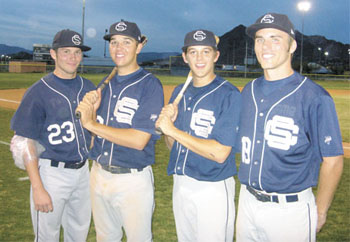 FALCON FIELD – Falcon fans following the chase for the Desert Sky Region title were hardly expecting Apache Junction to upset the Falcons at their home roost; and yet, the visiting Prospectors came within one strike of doing so before Connor Sabanosh hit a high bouncer that cuffed soph third baseman Miguel Rascon, allowing Joey Ford to score the tying run at 6-6.

Head Coach Mike Baker sent in the fleet Brady Dombrowski to pinch run for Sabanosh. Dombrowski promptly stole 2nd. Co-Captain Jaron Long grounded a playable ball past the rattled Rascon into short left. Leftfielder David Sandoval had the ball in his glove as Dombrowski was maybe one stride from 3rd. Coach Baker never hesitated, waving Dombrowski around 3rd. The startled Sandoval air mailed his throw toward catcher Ryan Howard, who had no play on the sliding Dombrowski. Game over! "Thuh Falcons win!" Thank you, John Sterling.

Postgame, Coach Baker to Sonoran News on the unfortunate young Rascon: "You know, when a young player gets a little scared, and the game is on the line, the baseball is going to 'find' him!" That it did, with the jubilant Falcons rushing onto the field to celebrate their narrow escape. Again, Coach Baker: "This was a big game for us to come back and win, the first time we've done that this season."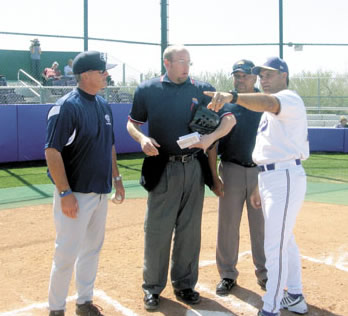 The elation lasted less than two days. At Saturday's mid-day, the Falcons were stuffed by Notre Dame lefthander Taylor Scott, who, in six innings of work, limited the Falcons to five hits, as the Saints, soundly mentored, as always, by Head Coach Guy Gianni, methodically de-feathered the HomeBirds, 8-3. Jaron Long's third HR of the year in the top of the 2nd was the only offensive bright spot.

Falcons will be tested this week, home (March 30) and away (April 1) by Desert Sky rival McClintock, still smarting from their 0-7 blanking at Falcon Field, March 11. Ryan Nemger got Tuesday's home start; Long, on Thursday at "Mac."
Gracie Goulder leads Ladies to 1st Region win
By Pete Mohr | March 31, 2010
APACHE JUNCTION – "You can't keep a good (gal) down!" At least not for more than two days. Here's shortstop Gracie Goulder's "line" from the Lady Falcons' 7-0 shutout (their first Region win of the season) over Apache Junction: on base four times (two singles, a double, one walk), four runs scored, two RBIs, six stolen bases, including a theft of home for the LadyBirds' first run in the top of the 1st! Head Coach Danica Gianni's got it right: "She's phenomenal!"

Goulder wasn't the only CSHS standout. Camille McIver hurled a complete game, yielding a measly three hits while striking out eight Lady Prospectors. Lauren Clepper and Amber Underdown each had two hits in the Lady Falcs' 11-hit attack. Coach G.: "Amber's bat is making a big difference for us this season. Hey! We're 6-6, at .500 for the first time in eight seasons! That's pretty exciting for a great bunch of gals. I'm so happy for them!" Sonoran News is excited for you, too, Coach. You've never given up.

Lady Falcons are away (March 30) and home (April 1) against the McClintock Lady Chargers, two important Desert Sky contests.

First pitch Thursday, 4 p.m. – no April Fools joke!